Seals of the Anne Arundel County Circuit Court
In 1803, a seal for the Anne Arundel County Court was attached to a bond signed by Joseph McCeney, and attested as to its authenticity by Nicholas Harwood. Harwood attached a seal (with a paper covering) to the document. The device appears to be divided per pale (horizontally down the middle). On the dexter half (the observer's left) is what appears to be a garb of wheat. The sinister (observer's right) is unclear. (Maryland State Papers, Scharf Collection, MSA S1005, MdHR 19999/111/30). Source: The Archivists' Bulldog, Vol. 11, No. 10, May 27, 1997.
Edward Stabler (1794-1883) of Alexandria, VA, was designing seals from ca. 1830 to ca. 1850, including several for Maryland counties. The seal he designed for
Anne Arundel County is a circular one showing a plow and a sheaf of wheat in the foreground. The ground gradually rises to a mountaintop from which a sun is
rising, with rays filling much of the top of the seal. At the very top of the circular area is a bank of clouds with a hand emerging from the clouds. The hand is
holding a scale or balance. At the bottom of the seal are the words "E. Stabler, Sc." Surrounding the shield is a circular band inscribed "Anne Arundel County
Court, Maryland." This seal is shown impressed on a document dated 1853. Source: Ibid.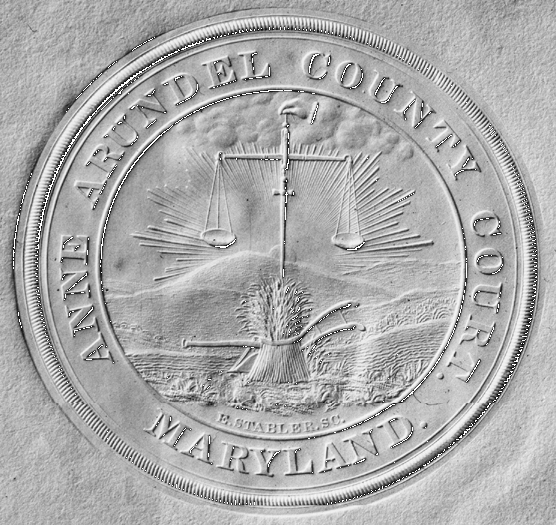 Examples of the Seal used in 1907. Notice the similarities between this design and the earlier Stabler seal:
Example of the Seal used in 2000: