Society of Senates Past
Roster
---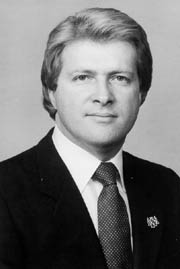 DENNIS F. RASMUSSEN
Democrat, District 6.
Born in Essex, June 14, 1947. Attended Essex Community College, Loyola College, B.S., 1970.
General Assembly:
Member, House of Delegates, 1975-78. Member of Senate, 1978-86. Executive Nominations and Rules Committees. Chair, Finance Committee. Member, Legislative Policy Committee, Joint Budget and Audit Committee, Joint Committee on Federal Relations, and Spending Affordability Committee. Member, Chesapeake Bay Critical Areas Joint Oversight Committee; Fiscal Review Committee; Maryland Legislative Information System Steering Committee. Senate Chair, Special Joint Committee on Pensions.
Private Career and Other Public Service:
Businessman and banker. Chair, Governor's Task Force to Study Arthritis; Commission on Mobile Homes. Member, Task Force on Senior Citizen Activity Centers. Board of Directors, Arthritis Foundation, Maryland Chapter. Board of Trustees, Franklin Square Hospital. Member, Essex-Middle River Chamber of Commerce; Bird River Democratic and Civic Club; Essex Improvement Association; Blue Ridge/Walnut Hills Improvement Association; Deep Creek Democratic and Civic Club; Essex-Middle River Heritage Society.
Compiled March 16, 2000 from the biographical files of the Maryland Manual, ©Maryland State Archives.