Society of Senates Past
Roster
---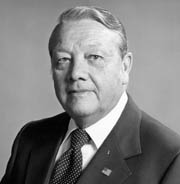 B.W. MIKE DONOVAN
Democrat, District 25.
Born in Baltimore. Attended Baltimore parochial schools; Butler University; University of Maryland.
General Assembly:
Member, House of Delegates, 1967-78. Assistant Majority Floor Leader.
Member of Senate, 1979-86. Assistant Majority Whip; Co-Chair, Protocol Committee; Member, Economic and Environmental Affairs Committee.
Private Career and Other Public Service:
Served in U.S. Army Air Corps during World War II and until 1964. Real estate broker. Member, Vietnam Veterans Memorial Commission. Past President, Alben Barkley Democratic Club. Member, Knights of Columbus; American Legion; VFW.
Compiled March 16, 2000 from the biographical files of the Maryland Manual, ©Maryland State Archives.