Society of Senates Past
Roster
---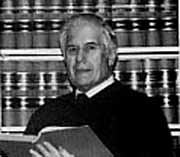 ELROY G. BOYER
Democrat, District 34.
Born in Baltimore, May 5, 1920. Attended Hagerstown and Baltimore public schools; University of Maryland; Washington College, A.B., 1942; University of Maryland School of Law, LL.B., 1945. Admitted to the Maryland Bar, 1945.
General Assembly:
Member, House of Delegates, 1959-71. Chair, Prison Administration Committee, 1963-66; Eastern Shore Delegation, 1965-67; Committee on the Constitutional Convention, 1967; Interest and Usury Committee, 1968; Constitution and Administrative Law Committee, 1969-70. Member of Senate, 1971-78. Private law practice, 1978-1987.
Private Career and Other Public Service:
Attorney, Towns of Rock Hall and Betterton. Circuit Court Judge, Second Judicial Circuit, 1987-1990. Past President, Young Democrats of Maryland; Kent County Young Democrats. Member, American and Maryland Bar Associations. Past President, Kent County Bar Association; Chestertown Lions Club.
Personal Comments and Observations:
"After political retirement I missed the many friends I made, but not the pressure cooker of day to day political and legislative manipulations.
"...Since [I left the bench in 1990] I've been sitting all over the State as a retired judge in District and Circuit Court. I love it. I've enjoyed sitting in every District Court in the State and still going strong.
"The most controversial issue during my tenure? How about the Baltimore subway system, the State lottery, Senatorial scholarships? My contribution (if any)? Protecting the interests of my constituency. Memorable/humorous moments? Every day brought new ones. To name the most outstanding would be insulting to those omitted. Every day was an adventure.
"Overall, my senatorial life is best summed up by Senator Mary Nock in the title of her book -- It was Joy and a Pleasure."
Compiled March 16, 2000 from the biographical files of the Maryland Manual, ©Maryland State Archives and from materials and photograph submitted by Judge Boyer dated February 8, 2000.