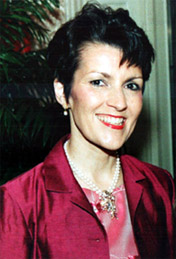 WELCOME! IT IS A GREAT PERSONAL PLEASURE TO HOST Lady of the House: First Ladies and Official Hostesses of Maryland, 1777-2000 AT GOVERNMENT HOUSE.The fifty-four individuals who served as first lady or official hostess played a prominent role in our state's history and cultural life. Yet, these vital women and their significant contributions were not documented until recently. In 1995, at my request, the Maryland State Archives began a research project dedicated to the study of Maryland first ladies and official hostesses. Our knowledgeable state archivist and his dedicated staff responded brilliantly by organizing this stunning exhibition, Lady of the House, as well as researching a soon to be published book, If These Walls Could Speak: The Official Residences and Public Lives of Maryland's First Ladies and Official Hostesses, 1777 - 2000. For these scholarly contributions, I am tremendously grateful to State Archivist Dr. Edward C. Papenfuse for his enthusiasm and interest in this project, to Biographical Research Director Emily Oland Squires for her dedication in recovering these women's histories and to Archives Exhibits Director Mimi Calver for her able assistance in organizing this exhibit.

PLEASE INDULGE YOUR HISTORICAL CURIOSITY while viewing both portraits of these remarkable women and some interesting objects associated with their intriguing lives. Although the active engagement of women in political struggle has been characterized as a more contemporary aspect of the first lady's role, Mary Digges Lee's work in collecting money and supplies for the army during the American Revolution, as well as the acknowledgement of her valiant efforts by General George Washington, suggest something quite different.


THE OPPORTUNITY TO HOST AMERICAN WRITER AND WIT MARK TWAIN through First Lady Emma Warfield's compelling invitation is but one delightful glimpse into our history. At the same time, however, all of these women deserve special commendation for their energy and commitment to Maryland citizens and distinguished state visitors for more than two centuries. The role of official hostess has been filled not only by the wives of Maryland governors, but also sometimes by their daughters, such as thirteen-year old Mary Ridgely Brown in the 1890s, and other women who assumed this volunteer responsibility with grace and a true sense of duty.


IT IS IMPOSSIBLE TO FULLY UNDERSTAND THE ROLE OF WOMEN IN MARYLAND HISTORY without acknowledging the efforts of Maryland first ladies and official hostesses. I hope you will enjoy learning about these fascinating women as much as I have.


Frances Hughes Glendening

First Lady of Maryland




Return to Lady of the House Home Page
Visit Electronic Exhibition for Lady of the House