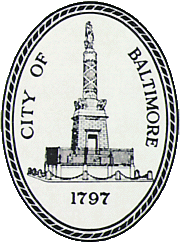 Archives of Maryland
Historical List
Baltimore City Counselors and Solicitors, 1797--
Source: Essay by Dan Friedman, former Chief of Litigation, Baltimore City Department of Law entitled Baltimore City Solicitors, posted November 2003.
(Note: article is a PDF Document)




Baltimore City Counselors, 1797-1863
1797-1822
currently unknown
1822-1833
John Scott
1834-1839
George Gordon Belt
1840-1841
William Gwynn
1842-1844
William L. Marshall
1844-1846
Hugh Davey Evans
1846-1849
Benjamin C. Presstman
1849-1852
Archer Ropes
1853-1854
Benjamin C. Presstman
1855-1858
Grafton L. Dulany
1859-1860
Archibald Stirling, Jr.
1861
George M. Gill
1862-1863
John Lewis Thomas, Jr.



Baltimore City Solicitors, 1898-present
1898-1899
John E. Semmes
1899-1900
Bernard Carter
1900-1903
William Pinkney Whyte
1903
Olin Bryan
1903-1908
William Cabell Bruce
1908-1911
Edgar Allan Poe
1911-1919
Samuel Summers Field
1919-1923
Roland A. Marchant
1923-1926
Phillip B. Perlman
1926-1927
Charles C. Wallace
1927-1931
A. Walter Kraus
1931-1938
R. E. Lee Marshall
1938-1942
Charles G. C. Evans
1942-1943
F. Murray Benson
1943-1947
Simon E. Sobeloff
1947-1958
Thomas N. Biddison
1958-1959
Hugo A. Ricciuti
1959-1961
Harrison Lee Winter
1961-1963
Francis B. Burch
1963-1968
Joseph Allen
1968-1974
George L. Russell, Jr.
1974-1987
Benjamin Brown
1988-1996
Neal Marcellus Janey
1996-2000
Otho M. Thompson
2000-2004
Thurman Wilbert Zollicoffer, Jr.
2004-2007
Ralph S. Tyler
2007-2016
George Nilson
2016-2017
David Ralph (acting solicitor)
2017-
Andre M. Davis
---
Return to Maryland Government, Historical List

This web site is presented for reference purposes under the doctrine of fair use. When this material is used, in whole or in part, proper citation and credit must be attributed to the Maryland State Archives. PLEASE NOTE: The site may contain material from other sources which may be under copyright. Rights assessment, and full originating source citation, is the responsibility of the user.
---
Tell Us What You Think About the Maryland State Archives Website!
---
© Copyright October 20, 2017 Maryland State Archives