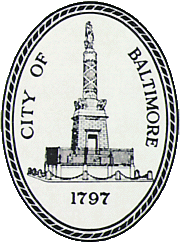 Archives of Maryland
Historical List
Baltimore City Criminal Court Clerks, 1851-1982
---

The Baltimore City Criminal Court was created in 1851 as the court that heard all criminal cases in Baltimore City [Constitution of 1851, Article IV, Section 13]. Previously, the Baltimore City Court had heard criminal cases in Baltimore City. In 1867, Baltimore's courts were were reorganized as the Supreme Bench of Baltimore City. The Criminal Court retained its jurisdiction over all criminal matters, unlike several other courts, which had their jurisdictions altered [Constitution of 1867, Part IV].

A constitutional amendment passed in 1980 consolidated Baltimore's courts. It took effect in on January 1, 1983, and Baltimore's six courts became the Baltimore City Circuit Court, functioning as any other county circuit court, with one court clerk.

1851-1857 Thomas H. Moore
1857-1863 Thomas H. Gardner
1863-1867 James B. Askew
1867-1879 William F. McKewen
1879-1891 John S. Bullock
1891-1897 Horace G. Dudley
1897-1903 Henry J. Broening
1903-1921 Sam W. Pattison
1921-1946 Edward Gross
1946-1952 Wilford L. Carter
1952-1972 Lawrence R. Mooney
1972-1974 George F.J. Brown
1974-1982 Lawrence A. Murphy

Sources:
Maryland Manual
BALTIMORE CITY CRIMINAL COURT (Minutes) 1851-1971 [MSA T483]
SECRETARY OF STATE (Commission Record) 1851-1967 [MSA S1081]
Byrnes, John Carroll. "Evolution of the Circuit Court of Baltimore City, 1632-1997." In Histories of the Bench & Bar of Baltimore City. Baltimore: Baltimore Courthouse and Law Museum Foundation, 1997, 1-62.
"The Clerk of the Criminal Court." The Barrister, 1982.
Return to Maryland Government, Historical List

This web site is presented for reference purposes under the doctrine of fair use. When this material is used, in whole or in part, proper citation and credit must be attributed to the Maryland State Archives. PLEASE NOTE: The site may contain material from other sources which may be under copyright. Rights assessment, and full originating source citation, is the responsibility of the user.
---
Tell Us What You Think About the Maryland State Archives Website!
---