Events
The staff of the Maryland State Archives presents educational programs to the community to share information about our collections. We invite you to participate in our upcoming events or to view recordings of our past programs. If you have a suggestion for a program topic or search tip you would like to see here in the future, please email your recommendation to msa.helpdesk@maryland.gov. Thank you for your support.
Past Events
View recordings of past lectures, seminars, tours and workshops, as well as helpful training videos on how to use various records in our collections in our free online Presentation Library.
Upcoming Events
Chris Haley
Title: A Celebration of Alex Haley, his Legacy, and Roots with Chris Haley

Date and Time: August 11, 2022, 1:00pm
Presenter: Chris Haley, Director, Study of the Legacy of Slavery in Maryland
Location: Online Event
Description:
Chris Haley, performer, author, historian and filmmaker, will share personal insights on the occasion of his celebrated uncle's 101st birthday. This virtual lecture concludes a series of events in Alex Haley's memory to commemorate the centennial of his birth. Alex Haley's book Roots and the subsequent televised miniseries was a landmark event inspiring a groundswell of interest in both genealogy and African American history. Son of the author's youngest brother, Julius, Chris Haley is the Director of the Study of the Legacy of Slavery in Maryland program at the Maryland State Archives is carrying forward the family's legacy in many ways. As a speaker, he has spoken primarily on Black History, Genealogy, and self-empowerment. Join Chris to learn about the impact of this incredible family on understanding our shared heritage.


---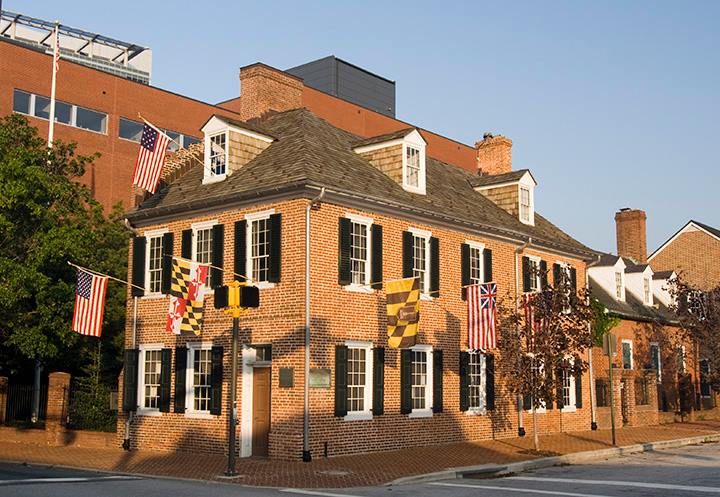 Flag House Museum, Baltimore, Maryland
Title: The Story of the Star Spangled Banner Flag

Date and Time: September 8, 2022, 1:00pm
Presenter: Amanda Shores Davis, Executive Director, Flag House
Location: Online Event
Description: Most Baltimoreans are familiar with the story of the Battle of Baltimore and the flag that inspired Francis Scott Key's famous song and eventual American national anthem, but how did the most famous flag to ever fly come to be? This program examines flag maker Mary Young Pickersgill's early life in Philadelphia at the start of the American Revolution and the Young-Pickersgill family's connections to the birth of the nation - setting the Young-Pickersgill women up for their significant contribution to the War of 1812 with the crafting of the Star-Spangled Banner in the little house at the corner of Pratt and Albemarle Streets in Baltimore's oldest neighborhood, Jonestown. A tale of perseverance and enterprise, this program is sure to give you a new perspective on the story of the Star-Spangled Banner and the family of flag makers. Please join Amanda Shores Davis, the Executive Director of the Star-Spangled Banner Flag House & Museum in Baltimore, Maryland to hear more about this engaging story.


---
Title: Researching Indigenous People in the collections of the Maryland State Archives

Date and Time: October 13, 2022, 1:00pm
Presenters: Director Maria Day and Deputy Director, Special Collections of the Maryland State Archives
Location: Online Event
Description:
Join special collections managers Maria Day and Megan Craynon for a look into their project to increase visibility of Indigenous people in the Maryland State Archives' government records. This talk will highlight new web resources about the history of Tribal peoples in the Chesapeake Bay region that are debuting to the public.


---
Title: Hidden Maryland: Halloween Presentation

Date and Time: October 19, 2022, 1:00pm
Presenter: Rachel Frazier, Search Room Coordinator
Location: Online Event
Description:Get into the Halloween spirit exploring archival records that reveal some of the forgotten sides of Maryland's history, from mysterious woods and crumbling ruins, to obscure remedies and strange stories.
---
DeKalb Statue at the Maryland State House
Title: Revolutionary War General Baron de Kalb

Date and Time: November 10, 2022, 1:00pm
Presenter: John Beakes, Maryland Military History Society
Location: Online Event

Description: People who saw Major General Johann de Kalb's heroic actions at the battle of Camden, South Carolina on August 16, 1780, never forgot it. A soldier who fought there wrote fifty -three years later that de Kalb was "…perhaps the bravest man that ever lived." De Kalb had fought fiercely on that fateful day, but he was finally felled by eleven wounds. His life ebbed slowly away, and he died three agonizing days after the battle.

Accolades began almost immediately. British officers attended his funeral in respect for an honored foe. American leaders spoke and wrote of their high regard. Congress authorized a memorial statue in Annapolis, the capital of Maryland, whose sons he had led in battle. Part of his legacy is this statue on the grounds of the Maryland State House. Join us to hear more about this important Maryland military history with author John Beakes.

---
Title: Washington Resigns - How George Washington's Career led to Annapolis in 1783

Date and Time: December 8, 2022, 1:00pm
Presenter: Burt Kummerow, Founding Director, Maryland Four Centuries
Location: Online Event
Description:
On December 23, 1783, General George Washington stepped into the Senate Chamber in a brand new Maryland Statehouse and resigned his military commission before an almost powerless US Congress. As the eight year war for American independence ended, General Washington was the recognized leader of the new United States. His resignation, recognizing that the civilian government had jurisdiction over its military forces, created international shock waves that still reverberate today. Public historian Burt Kummerow will highlight the background of the December resignation, its implications for the future of the new United States and George Washington's background that led from his hot-blooded and ambitious youth to that extraordinary moment in 1783 Annapolis.

Beginning his history career studying Rome and Greece and especially Pompeii, Burt Kummerow went on to early America. He helped found the Living History Movement in the United States and has been a writer and popular speaker, public television producer (Maryland Public Television) and director of three important Maryland museums; Historic St. Mary's City, the National Museum of Civil War Medicine (Founding Director) and the Maryland Historical Society(now the Maryland Center for History and Culture). As the President of Historyworks, Inc. based in Maryland, he has been a multi-faceted public historian who uses a wide range of skills and experience to bring history to the general public. He is the author and co-author of five books and many articles; War for Empire, Heartland, Pennsylvania's Forbes Trail, and In Full Glory Reflected, Discovering the War of 1812 in the Chesapeake. With Mary Blair, he has written and produced BGE 200 Years, Moving Smart Energy Forward, A History, 1816-2016, a book for the 200th anniversary of the Baltimore Gas and Electric Company. In 2018, he became the founding director of the Maryland's Four Centuries Project, (Maryland400), laying the groundwork for a successful celebration of Maryland's 400th Anniversary in 2034. Back to Top
This web site is presented for reference purposes under the doctrine of fair use. When this material is used, in whole or in part, proper citation and credit must be attributed to the Maryland State Archives. PLEASE NOTE: The site may contain material from other sources which may be under copyright. Rights assessment, and full originating source citation, is the responsibility of the user.
---
© Copyright Wednesday, 10-Aug-2022 09:57:33 EDT Maryland State Archives