Archives of Maryland
(Biographical Series)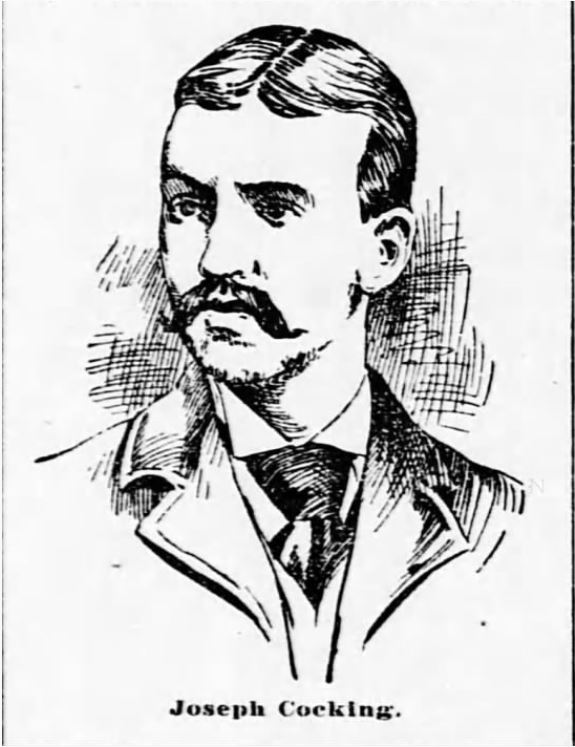 Joseph Cocking (white)
MSA SC 3520-17901
Lynched in Port Tobacco, Maryland, June 28, 1896
Biography:
Joseph Cocking was a British immigrant and one of several white men lynched in Maryland. The morning of April 24, 1896, Cocking was discovered in the basement of his store and house in Hill Top, Charles County, Maryland. An African American customer named Nick Jones entered the store early that morning, but felt something was amiss when he heard Cocking moaning in the basement. Upon initial investigation Jones found Cocking beaten, covered in scratches, with his feet loosely bound together. Jones would later tell investigators that he immediately tried to cut Cocking free of the restraints, but when he noticed how loose the ropes were Jones just slid them off Cocking's legs. At Cocking's request, Jones searched the rest of the store. Jones discovered a bloody hatchet on the counter and when he went upstairs he found the murdered bodies of Joseph Cocking's wife, Fannie Cocking and her sister Daisy Miller one room down from their four-year-old son's bedroom.1 Jones ran back to Cocking to help get him out of the store. Jones could not bring himself to tell Cocking what he found, but quickly joined a search party to track down the culprits that Cocking alleged tried to rob his store in the night.2 State's Attorney Adrian Posey managed to enlist surrounding counties and Washington D.C. authorities to search for suspicious persons. The Evening Star reported that if the criminals were found they would be "convicted by a court over which Judge Lynch will preside."3
The community initially rallied to support Cocking who was a well-known resident in Port Tobacco and the only store owner in the town. He had married into the politically prominent Miller family. However, as the investigation turned up little evidence of a robbery and more inconsistencies were found in Cocking's recollection of events, the town began to suspect he had murdered his wife and sister-in-law. When investigators found a bloody pair of Cocking's pants in the basement, Charles County Justice William T. Hindel ordered Cocking's arrest on April 26, for the murder of Fannie Cocking and Daisy Miller. Cocking was immediately taken back to his store to examine the bodies of both women by Detective Gault who was fresh from his investigation into the Sallie Dean murder and subsequent Marshall Price lynching nine months prior in Caroline County. Gault and Sheriff George Wade tried to get Cocking to confess to the murders but were unsuccessful, at which point Cocking was taken outside to an awaiting crowd of 300 white and African American members of the community who were screaming to lynch Cocking.4
Cocking was initially taken to the Baltimore City Jail for his own protection as he awaited trial. He campaigned heavily to be transported back to Charles County, believing his reputation in the community would ensure a fair trial despite the Baltimore Sun reporting his return would undoubtedly end with his lynching. He was transferred to Port Tobacco Jail where he would later complain the conditions were not suitable for a "human being."5 His trial defense largely hinged on his narrative that he had been sleeping in his son's room when the burglars broke into the store. Cocking asserted that he went downstairs to investigate but was struck over the head and knocked unconscious. Cocking then claimed he woke up in the basement with both his hands and feet bound. He had just managed to free his arms when Jones entered the store.6
Cocking's son gave insconsistent testimony which did a great deal of damage to his father's narrative. At first, his son claimed that he slept alone then said he was sleeping in the same room as his father before finally saying that he fell asleep in his mother's room before Cocking moved him in the middle of the night. These inconsistencies repeatedly called into question Cocking's story that he had slept in his son's room the entire night. Cocking could also not account for why a pair of his blood-soaked pants were found under a large pillow in the basement.7
Curiously enough, a brother to the two deceased women, John Miller, maintained Cocking's innocence on multiple occasions. At the same time rumors from other members of the Miller family began to circulate that Cocking and his wife were estranged and that Daisy Miller had moved in with the family to monitor the situation.8 Cocking's lawyer managed to secure a change of venue on the basis that Cocking would not receive a fair trial in Charles County.9 When Cocking and his brother Thomas began to insinuate that Fannie Cocking had been unfaithful, the community reacted swiftly.10
On June 28, several men burst into the home of African American jailer Washington Burch.11 Burch attempted to hide in a closet but was discovered, apprehended, and marched to the jailhouse that held Cocking. After his cell was unlocked, Cocking tried to fight off the men and repeatedly cried out that he "wanted to explain," but the mob quickly placed a noose around his neck, and led him out into the street. After turning Cocking over to the sixteen-person mob, who were allegedly dressed in women's clothing, Burch was instructed to lock himself in the cell and hand over the keys. He feigned locking the cell door and when the men left with Cocking, Burch slipped away and followed them.12
Cocking was led to a bridge over a stream near the outskirts of town. The mob asked if Cocking wished to pray. He quickly declined but again insisted that he wanted "to tell [the mob] something." Before he could say another word, he was shoved from the bridge and hanged. As the mob quickly dispersed, Burch sought out the Sheriff.13 They called the entire town to the plaza the same morning to discuss what happened. According to a reporter from the Evening Star, a few people bragged about being tired or having head colds from getting "wet last night." The journalist implied it was not hard to discern who committed the lynching. When Sheriff Wade called the lynching a "gross outrage" a physical altercation almost broke out until Sheriff Wade drew his revolver and threatened the crowd.14 Almost two months later, Maryland governor Lloyd Lowndes wrote a letter to the British Anti-Lynching Committee apologizing for the murder of Cocking and promising the capture of the responsible parties. A 1,000 dollar reward was announced for any information pertaining to the mob.15 Despite this, a jury found the circumstances around Cocking's murder to be "death at the hands of parties unknown."16
In November 1896, Burch and Wade were placed on trial by the county grand jury for not adequately protecting Cocking or identifying members of the lynch mob. Represented by Charles County Republican and speaker of the house of delegates Sydney E. Mudd, both men were cleared of the charges on grounds of a lack of evidence against them.17 Several years later, Cocking's older children filed a civil suit against Sheriff Wade for not transferring their father to another jail upon hearing of a possible lynching. Wade was cleared in the ruling on April 12, 1898 that stated that although it is the Sheriff's duty to protect those in his custody, he is not liable for failing to protect them.18
_____________________________________________________________________________________________________________________________________________________________________________
Footnotes
1. "Husband a Suspect," Washington Times (Washington), April 25, 1896.; Christine Arnold-Lourie, "'A Madman's Deed - A Maniac's Hand': Gender and Justice in Three Maryland Lynchings," Jounral of Social History, 2008.
2. "Husband a Suspect."
3. "A Double Murder," Highland Recorder (Monterey), May 1, 1896.
4. "Cocking Arrested," The Baltimore Sun (Baltimore), April 27, 1896.
5. "Joseph Cocking's Trial," The Baltimore Sun (Baltimore), May 21, 1896.; CHARLES COUNTY CIRCUIT COURT (Judgement Docket) 1891-1900, JST 2, folio 224, MSA T3230-5.
6. "Husband a Suspect."
7. "Cocking Arrested."
8. "Lynching in Maryland," The Boston Globe (Boston), June 28, 1896.; Arnold-Lourie, "'A Madman's Deed - A Maniac's Hand'," Journal of Social History.
9. "To Go Unpunished," The Evening Star (Baltimore), June 29, 1896.; CHARLES COUNTY CIRCUIT COURT (Clerks Docket) 07/1896, JST, folio 8-11, MSA T399-121.
10. "Cocking Lynched," The Baltimore Sun (Baltimore), June 29, 1896.
11. "La Plata Lynching," The Evening Star (Baltimore), June 27, 1896.
12. "Joseph Cocking Taken from Jail and Hanged," The Democratic Advocate (Baltimore), July 4, 1896.
13. "Cocking Lynched."
14. Ibid.
15. "Lynching of an Englishman in America," The Western Argus (Kalgoorlie, Western Australia), December 10, 1896.
16. "To Go Unpunished."
17. Arnold-Lourie, "'A Madman's Deed - A Maniac's Hand'," Journal of Social History.; CHARLES COUNTY CIRCUIT COURT (Judgement Docket) 1891-1900, JST 2, folio 272, MSA T3230-5.
18. Reports of Cases Argued and Determined in the Court of Appeals of Maryland, vol. 87 (MD, 1898).
Written and researched by Zach Tucker


This web site is presented for reference purposes under the doctrine of fair use. When this material is used, in whole or in part, proper citation and credit must be attributed to the Maryland State Archives. PLEASE NOTE: The site may contain material from other sources which may be under copyright. Rights assessment, and full originating source citation, is the responsibility of the user.
---
Tell Us What You Think About the Maryland State Archives Website!
---



<!-#config timefmt="%B %d, %Y"--> © Copyright Monday, 17-Aug-2020 15:06:30 EDT Maryland State Archives