Archives of Maryland
(Biographical Series)
John J. Garrity (1933-2016)
MSA SC 3520-11680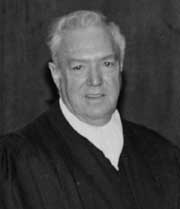 Biography:
Born in New Haven, Connecticut, December 3, 1933 to John J. Garrity Sr. and Agnes Veronica McDermott. Attended St. Joseph's Orphanage, Burlington Vermont; St. Michael's grammar and high school, Brattleboro, Vermont; Montgomery Junior College; University of North Carolina; American University, B.A., 1961; American University School of Law, J.D., 1963. Admitted to the Maryland Bar, 1964. Married to Bertha Ann Garrity; two sons, Kevin Michael and John Joseph, Jr.; three granddaughters, Kelly Marie, Colleen Elizabeth and Kerry Ann Garrity. Died April 14, 2016, in Baltimore, Maryland.
General Assembly:
House of Delegates, Prince George's County, 1975-78. Vice-chair, Prince George's County House Delegation, 1975-78. Member, House Ways and Means and Joint Committee on Budget and Audit, 1975-78. Senate, District 22, 1978-82. Member, Judicial Proceedings Committee.
Private Career and Other Public Service:
Served in U.S. Navy, 1955-59. Member, Governor's Commission on Law Enforcement and the Administration of Justice. Assistant state's attorney for Prince George's County, 1967-69; Assistant Attorney General of Maryland, 1969-71. Dean, law fraternity, Delta Theta Phi, Montgomery and Prince George's County, 1969. President, Young Democrats Prince George's County, 1969-70. Prince George's County Commissioner, 1970-71. Member, Prince George's County Council, 1971-74; chair, 1973. National vice-chair, Judiciary Committee of the National Association of Counties, 1974. Legislator of the Year, Maryland Association of Counties, 1975 and 1979. Judge, Court of Special Appeals, 4th Appellate Circuit, 1982-94. Member, American, Maryland State and Prince George's County Bar Associations; Association of Trial Lawyers of America; Delta Theta Phi law fraternity. Charter member, Friendly Sons of St. Patrick. Founder, "Breakfast of Champions, Inc.," Prince George's County. Director, Boys Club of Prince George's County. Member, Ancient Order of Hibernians, Emerald Isle Division; charter member, Friendly Sons of St. Patrick. Author, Appellate Writing, Practice and Procedure (Montgomery-Prince George's County Continuing Education Program); "A History of the Irish in Maryland," National Hibernian Digest (June 1981). Member, Society of Senates Past.
Personal Comments and Observations:
The two most controversial issues with which Senator Garrity dealt while in the Senate were abortion and the death penalty. He identified himself as a "floor leader of right to life" and as a "floor leader" on the death penalty issue.
Senator Garrity believed that his most significant contribution as a Maryland Senator was made when he "created legislation on [the] 'Victim Impact Statement,'" which is "now nation-wide as adopted by most states and approved by [the] U.S. Supreme Court. [It] allows victims of crimes to testify as to [the] impact of [the] crime on their lives at sentencing."
The most humorous moment of Senator Garrity's time in office was "when John Coolahan took off Jerry Connell's hair piece [on the] last day of [the] session."
Return to John J. Garrity's introductory page
© Copyright May 25, 2016Maryland State Archives