Archives of Maryland
(Biographical Series)
Fred L. Wineland (1926-2016)
MSA SC 3520-2753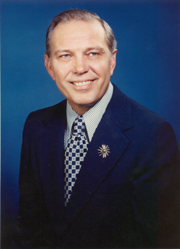 Biography:
Born in Washington, D.C., August 16, 1926. Son of Lloyd J. and Elsie (Pezold) Wineland. Attended Washington, D.C. public schools; American University; Southeastern University, B.S., business administration, 1957. Married to Mary Katherine Flack; four children, eight grandchildren. Died December 11, 2016, in Fort Washington, Maryland.
General Assembly:
House of Delegates, Legislative District 4-C (D), Prince George's County, 1963-65. Member, Banking Committee; Insurance Committee. Senate, Legislative District 4-C (D), Prince George's County, 1965-71. Chair, Executive Nominations Committee. Member, Finance Committee; Economic Affairs Committee.
Private Career and Other Public Service:
Served in U.S. Navy during World War II. Delegate to Democratic Party Conventions, 1968, 1972, 1976, 1980. Secretary of state, 1971-1982. Member, Credentials Committee, 1980. Vice-chair, State Democratic Party campaign; co-chair, Prince George's County campaign, 1980. Treasurer, Harry Hughes' gubernatorial campaigns, 1982 and 1986. Treasurer, Member of Finance Committee, Democratic State Central Committee of Maryland. Marketing and management consultant, Wineland Associates, Inc., 1982-present. Maryland Vietnam Veterans Memorial Commission, 1984-89. Chair, Governor's Task Force on State Support for Volunteer Fire, Rescue and Ambulance Companies, 1985-88. Transition officer, offices of Governor William Donald Schaefer and Harry Hughes, 1986. Member, Maryland Port Commission, 1988-2002; World War II Memorial Commission, 1991-98. President, National Association of Secretaries of State. Member, Prince George's County Board of Trade, nominated Man of the Year, 1980; Prince George's Chamber of Commerce. Organizer and president, Ducks Unlimited of Prince George's County. Member-at-large, National Capital Area Boy Scouts of America. Organizational honors from Maryland State Volunteer Fireman's Association, Prince George's County Volunteer Fireman's Association; Southern Prince George's Congress of Civic Associations; Maryland Association of Citizen's and Sportsmen, State Legislator of the Year, 1968; Honorary Title of Distinguished Italian American of Columbus Citizens' National League. Amateur hunter, fisherman, pilot. Member, Society of Senates Past.
Personal Comments and Observations:
"[The most controversial issue with which I dealt in the Senate was] crime/gun control. [I] introduced legislation that passed [in the] Senate two years in a row but failed in [the] House. [The] bill stated that anyone convicted of committing a crime with a dangerous weapon would automatically be sentenced to a minimum, mandatory five-year sentence. [The bill said] that the judge could increase the sentence but in no event could he decrease it. After being defeated in the House, it became part of a federal bill and several other state [bills]. Maryland eventually adopted most of the language [used in the federal bill]. [The second most controversial issue I dealt with was] slot machines.
"[I believe that my most significant contribution as a Maryland Senator was] supporting legislation to establish veterans' cemeteries and veterans' homes. After becoming Secretary of State I implemented the legislation and oversaw construction of operation of [them].
"[My most memorable moment in the Senate was] the day in 1966 that the Senate ceiling (stained glass) broke and fell over the members in the chamber."
Return to Fred L. Wineland's Introductory Page

This web site is presented for reference purposes under the doctrine of fair use. When this material is used, in whole or in part, proper citation and credit must be attributed to the Maryland State Archives. PLEASE NOTE: The site may contain material from other sources which may be under copyright. Rights assessment, and full originating source citation, is the responsibility of the user.
---
Tell Us What You Think About the Maryland State Archives Website!
---
© Copyright December 16, 2016Maryland State Archives