Archives of Maryland
(Biographical Series)
C. Bernard "Bernie" Fowler
MSA SC 3520-2705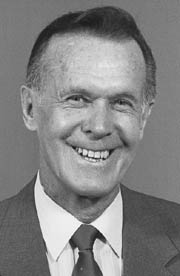 Biography:
Born in Baltimore, March 30, 1924. Graduate of Calvert Senior High School. Married; four children.
General Assembly:
Member of Senate, District 29 (Calvert, Anne Arundel, and St. Mary's Counties), 1983-94. Member, Budget and Taxation Committee; Economic and Environmental Affairs Committee; Executive Nominations Committee; Joint Committee on Legislative Ethics; Special Joint Committee on Pensions. Senate Chair, Joint Committee on Chesapeake Bay Critical Areas; Joint Subcommittee on Program Open Space and Agricultural Land Preservation.
Private Career and Other Public Service:
Served in U.S. Navy, 1944-46; Awarded the Asiatic-Pacific, American Theatre, and Victory Medals. Businessman. Member, Calvert County Board of Education, 1963-69 (Past President); Calvert County Commissioner, 1970-82 (Past President). Member, Governor's Commission on Special Education; Governor's Task Force on State-Local Fiscal Relationships; Governor's Task Force on Time-Sharing; State Development Council Task Force; Patuxent River Commission. President, Tri-County Council for Southern Maryland. Chair, Tri-County Natural Resources Commission. Member, Chesapeake Bay Commission. Member, Prince Frederick Lodge 142; Eastern Star; American Legion; VFW; Elks; Kiwanis; Farm Bureau; Chamber of Commerce; Sportsman Club; Potomac River Association; Waterman's Association.

Return to Bernie Folwer's Introductory Page
© Copyright March 01, 2010 Maryland State Archives