Archives of Maryland
(Biographical Series)
Oden Bowie (1914-2012)
MSA SC 3520-2687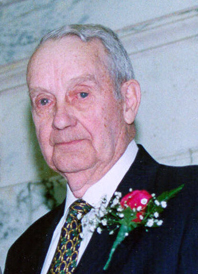 Biography:
Born November 21, 1914, in Washington, D.C. Son of Washington Booth and Marie Louise Bowie. Grandson of Governor Oden Bowie. Attended Donaldson School; University of Maryland College Park, B.S., Agri-Economics, 1937. Member, University of Maryland 1936 and 1937 national champion lacrosse teams. Married Laura Brainard; two daughters. Died October 23, 2012, in Annapolis, Maryland.
General Assembly:
Journal Clerk, 1955-69. Secretary of the Senate, 1969-97. First Citizen Award, 1997. Member, Society of Senates Past.
Remarks by Dr. Edward C. Papenfuse, State Archivist, at the presentation of the First Citizen Award.
Private Career and Other Public Service:
Farmer. Lived at "Fairview," the Bowie family home in Prince George's County. Member, Holy Trinity Episcopal Church of Bowie, where he served on the vestry, was senior warden and oversaw the cemetery. Past president, Southern Maryland Society; Vansville Farmers Club. Founding Member, Prince George's County Historical Society. Charter member, Collington Episcopal Life Care Commuinty Board of Directors. Member, South River Club; Sigma Nu fraternity.


Return to Oden Bowie's Introductory Page




© Copyright December 04, 2013 Maryland State Archives