Archives of Maryland
(Biographical Series)

Elizabeth Kell Bradford (ca. 1817-1894)
MSA SC 3520-2269
First Lady of Maryland, 1862-1866
Images:
---
Bradford family silver set belonging to the Syckes family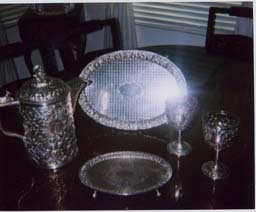 Silver set by S. Kirk & Sons presented to Elizabeth Bradford from the 1864 Maryland State Sanitary Fair Commission. Gifted to the State of Maryland by the Syckes family. MSA SC 1545-3487.

Return to Elizabeth Kell Bradford's introductory page
© Copyright January 23, 2018Maryland State Archives