Archives of Maryland
(Biographical Series)
Margaret "Peggy" Oswald Chew Howard (1760-1824)
MSA SC 3520-2232
First Lady of Maryland 1788-1791

Mrs. John Eager Howard and Son by Florence Mackubin
Copy of the Portrait by Charles Willson Peale
Collection of the Frick Art Reference Library

---
Margaret Oswald Chew, wife of Maryland's fifth governor John Eager Howard, was born on December 16, 1760 at "Cliveden," the Chew family estate in Philadelphia. Margaret, or "Peggy" as she was affectionately called by friends and family, was one of nine children born to Benjamin and Elizabeth Oswald Chew. Peggy's siblings were Benjamin, Jr., Joseph, Juliana, Henrietta, Sophia, Maria, Harriet, and Catherine. Benjamin Chew already had five daughters from his previous marriage to Mary Galloway: Mary, Anna Maria, Elizabeth, Sarah, and Henrietta.1 Peggy's father held numerous prestigious positions including State Attorney General, Chief Justice of the Supreme Court of Pennsylvania, and President of the High Court of Errors and Appeals. As a result, the Chew family basked in the limelight of eighteenth-century Philadelphia society.2

The Chew sisters took full advantage of their social position. Peggy and her siblings "enlivened the dances and drawing rooms of Philadelphia;" furthermore, they became particular favorites of General George Washington, who treated them "as if they were his own children."3 Mr. Joseph Shippen, a social commentator of the period, thought "Mary and Elizabeth the most beautiful" but confirmed that "Peggy was the charmer."4 At the age of seventeen, Peggy was described as "a slim brunette, gentle, very feminine, her long, fine-boned face almost too delicately made."5

As proof of her abundant charms, Peggy was frequently surrounded by many attentive suitors. Although she eventually married Maryland's future chief executive, one of her most famous suitors was Major John André.6 André was a most impassioned admirer of Miss Chew. He claimed to be her "Knight of the Burning Rose," and as a sign of his devotion, he staged a grand ball on May 18, 1778 and chose Peggy Chew as his escort.7 For the ball, called "The Meschinaza," the men dressed in court costumes from the reign of Henry IV while the women appeared as Turkish maidens.8 André later presented Peggy with a souvenir manuscript of the evening which he personally designed and rendered.9
Meschianza Ticket drawn by John André
1778
Reprinted from Pillars of Maryland by Francis Sims McGrath
Perhaps Peggy Chew would have married the dashing Major John André, but fate stepped in when he was ordered away from Philadelphia. Upon leaving Cliveden, he delivered these lines of poetry to Miss Chew:
                If at the close of war and strife

                        My destiny once more

                Should in the various paths of life

                        Conduct me to this shore;
                Should British Banner guard the land
                        And faction be restrained
                And Cliveden's mansion peaceful stand,
                        No more with blood be stained,
                Say, wilt thou then receive again
                        And welcome to thy sight
                The Youth who bids with stifled pain
                        This sad-farewell tonight?10
Self-portrait by John André
c. 1772, Collection of James André, Esq.
Reprinted from The Traitor and the Spy by James Thomas Flexner
Sadly, Peggy never had a chance to answer this plea, for André was found guilty of spying; he had been entrusted with the correspondence between the British headquarters and the American traitor Benedict Arnold, and was in possession of the treasonous papers when he was captured by American soldiers who searched him and found them. On October 2, 1780, the British officer was hanged at Tappan, New York.11
As a result, Peggy lost her most ardent suitor, and it was John Eager Howard who finally won her hand. Colonel Howard first saw the Chew home during a battle of the Revolutionary War and soon became infatuated with Peggy.12 Wounded during the fighting at Eutaw Springs, he feared that another suitor would court her during his convalescence. Therefore, he convinced his physician, Dr. Craik, to act as a courier for the messages that passed between the lovers. The two carried on a long and heated courtship by pen while Colonel Howard remained an invalid. Finally, the "bombardment" of letters proved to be too much for the long sought after Peggy Chew to resist; according to family lore, she "surrendered unconditionally" to the noble colonel, and the couple became engaged.13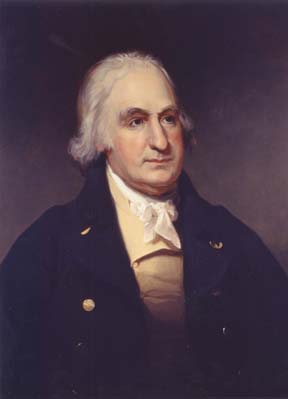 John Eager Howard by Thomas Sully
1824
Collection of the Maryland Commission on Artistic Property
Maryland State Archives, MSA SC 1545-1134
Margaret Oswald Chew married John Eager Howard on May 23, 1787.14 General George Washington, one of the honored guests in attendance at Cliveden, noted the ceremony and reception in his diary.15 The couple took up residence at "Belvedere," Howard's newly constructed mansion, and their home was renowned as a "scene of much hospitality" and a "center of elegance and grandeur."16
A revered hero for his bravery in the Battle of Cowpens, Howard was selected to fill the position of Governor in Maryland from 1788 to 1791.17 During this time the couple lived in Annapolis in Government House, which at this period was the Jennings House located on a four-acre lot that is now a part of the United States Naval Academy.18 Peggy Chew graciously stepped into the role of First Lady of Maryland, a position which her years among the social elite in Philadelphia had groomed her to fill.
The union of Governor and Mrs. Howard produced several accomplished children who distinguished themselves in Maryland affair. These included John Eager, Jr., Benjamin Chew, Charles William, James, Julianna, Elizabeth, Sophia, and George who, born in Government House, ultimately followed in his father's footsteps to become the twenty-second Governor of Maryland.
After John's lengthy public career which, in addition to the governorship, included a seat in the Maryland State Senate as well as a term in the United States Senate, John Eager and Peggy Chew Howard retired to "Belvedere" in 1816 to spend their remaining years together.19 Peggy died at the age of 63 on May 29, 1824. She was survived by her husband John who remained a widower until his own death on October 12, 1827.20
Return to Margaret Oswald Chew Howard's introductory page

---
© Copyright April 20, 2017Maryland State Archives