Archives of Maryland
(Biographical Series)
Marjorie S. Holt (1920-2018)
Anne Arundel County Court Clerk, 1966-1972
MSA SC 3520-2045
Images: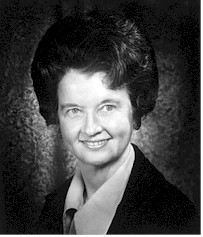 Source: Biographical Directory of the United States Congress Online
(http://bioguide.congress.gov/scripts/biodisplay.pl?index=H000747)


Marjorie S. Holt and her husband Duncan
after her victory over Louis N. Phipps for
the position of Clerk of the Court.
(Photo from the Evening Capital on November 9, 1966)


Signature of Marjorie S. Holt from ANNE ARUNDEL COUNTY CIRCUIT COURT (Test Book) MSA T1119


Some political notes on Holt in a 1982 local newspaper.
(courtesy John Hammond 1982 election scrapbook assembled by Dr. Carl Mauro)

Holt supported Republican candidates throughout Anne
Arundel County. Here she speaks with a young Republican
candidate for County Executive with Spa Creek in
the background.
(John Hammond for County Executive campaign brochure, 1982)

Return to list of Anne Arundel County Circuit Court Clerks

This web site is presented for reference purposes under the doctrine of fair use. When this material is used, in whole or in part, proper citation and credit must be attributed to the Maryland State Archives. PLEASE NOTE: The site may contain material from other sources which may be under copyright. Rights assessment, and full originating source citation, is the responsibility of the user.
---
Tell Us What You Think About the Maryland State Archives Website!
---
© Copyright January 09, 2018Maryland State Archives