Archives of Maryland
(Biographical Series)
Marjorie S. Holt (1920-2018)
Anne Arundel County Court Clerk, 1966-1972
MSA SC 3520-2045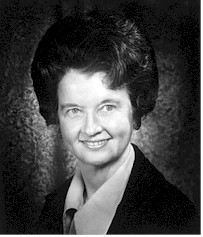 Biography:
HOLT, Marjorie Sewell, a Representative from Maryland; born Marjorie Sewell in Birmingham, Ala., September 17, 1920; attended Jacksonville Junior College, 1940-1941; LL.B., (J.D.), University of Florida College of Law, 1949; admitted to the Florida bar in 1949, and the Maryland bar in 1962 and commenced practice in Anne Arundel County, Md., 1962; clerk of the Circuit Court, Anne Arundel County, 1966-1972; supervisor of elections, Anne Arundel County, 1963-1965; counsel, Maryland State Federation of Republican Women, 1971-1972; member, Maryland Governorís Commission on Law Enforcement and the Administration of Justice, 1970-1972; member, Anne Arundel County Human Relations Commission, 1965-1966; delegate, Republican National Conventions, 1968, 1976, 1980 and 1984; elected as a Republican to the Ninety-third and to the six succeeding Congresses (January 3, 1973-January 3, 1987); was not a candidate for reelection in 1986; resumed the practice of law in Baltimore; nominated by President Reagan as a member, General Advisory Committee on Arms Control and Disarmament, July 1987; is a resident of Severna Park, Md. Died January 7, 2018, in Severna Park, Md.

Married - Duncan M. Holt

November, 1966 - heated election against Democratic candidate Louis Phipps; Phipps was an old-style Democrat and a strong party leader; Holt spoke out against Phipps' record-keeping(11/1/66); Holt won in "one of the biggest upsets in county politics" (11/8/66); Holt a "volunteers-for-Charter endorsed grandmother" who is a "pretty 45-year-old lawyer". results: 25,889 votes for Holt vs. 23,401 votes for Phipps (11/8/66)
Source: Biographical Directory of the United States Congress Online (http://bioguide.congress.gov/scripts/biodisplay.pl?index=H000747), 04/04/2000

Return to list of Anne Arundel County Circuit Court Clerks

This web site is presented for reference purposes under the doctrine of fair use. When this material is used, in whole or in part, proper citation and credit must be attributed to the Maryland State Archives. PLEASE NOTE: The site may contain material from other sources which may be under copyright. Rights assessment, and full originating source citation, is the responsibility of the user.
---
Tell Us What You Think About the Maryland State Archives Website!
---
© Copyright January 09, 2018Maryland State Archives