Archives of Maryland
(Biographical Series)
Robert C. Murphy (1926-2000)
MSA SC 3520-1525
Images:

| | |
| --- | --- |
| Judge Murphy sitting for his official portrait, painted by Cedric Egeli, 1997. | |
| | |

Official portrait of Judge Robert C. Murphy unveiled by his successor, Judge Robert M. Bell,
at the unveiling ceremony on October 9, 1997.


Photo from Maryland Manual Collection,
MSA SC 1198.

Photo of portrait by Cedric Egeli
Maryland Commission on Artistic Property,
MSA SC 1545-2949.

Judge Murphy (second from left) helps Governor Harry Hughes,
Comptroller Louis Goldstein, and others break ground for the new
Hall of Records building, completed in 1984.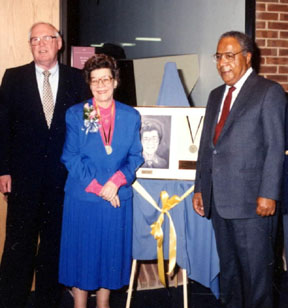 Judge Murphy with archivist Phebe Jacobsen and
author Alex Haley at Ms. Jacobsen's retirement
celebration, 1990.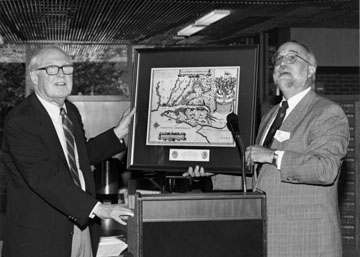 Retirement of Judge Murphy as Chief Judge of the Court of Appeals of Maryland
and as Chair of the Hall of Records Commission, October 1996. State Archivist
Edward C. Papenfuse presented Judge Murphy with a copy of the Ogilby map.

Judge Murphy with his law books, c. 1996.

The Courts of Appeal Building, Annapolis, Maryland. The gold lettering above the entrance reads,
"Dedicated to Robert C. Murphy Chief Judge 1972-1996."

| | |
| --- | --- |
| Plinth in the lobby of the Courts of Appeal Building. | |
Return to Robert C. Murphy's Introductory Page
© Copyright June 09, 2005Maryland State Archives