The Forgotten Mothers of Maryland
by Edward C. Papenfuse, State Archivist & Commissioner of Land Patents

Georges de la Tour, ca. 1640. The Repentant Magdalen, National Gallery of Art
Writing history is an exercise of contemplation and imagination, of projecting back in time in an effort to understand why and how people behaved, how they viewed the world about them, and what the major influences were that affected their daily lives. Here a repentant Magdalen reflects on what? Her past sins? Whether or not there is true forgiveness? Is it merely an artist's study in artificial light, so much the rage when it was painted? Is it the skull that attracts us or the delicate slender fingers that rest lightly upon it? Or is it her eyes which seem far from repentant, lending a sense of great concentration, resigned wisdom, and the presence of a powerful, yet constrained, intellect that could equal and perhaps better that of any man?

To what degree do we see in the remnants of the past, whether they be art, archival, or archaelogical, our own reflections, our own desires to undertand ourselves and to make sense of the world about us? How much in our efforts to know the past are we constrained by what we think we know of the present? How do we know what we know and what does it mean?

It is both the challenge and the reward of studying history to see the past in a new light, to touch delicately whatever evidence there is, and to transform it into a compelling, carefully crafted and documented narrative of what we think we have found..
Often cartoonists in a single strip of quickly sketched frames capture more meaning than any number of scholarly monographs. Take for example this Sally Forth published in the Baltimore Sun for October 15, 1985.

Ted: "What are you reading, Hilary?"

Hilary: "We're studying the American Revolution in School. I'm reading the chapter about the founding mothers."

Ted: "Really? I never studied the founding Mothers in school."

Hilary: "Compare history to arithmetic, dad. How would you feel if they had taught you to add but not to substract?"

Ted: "I'd feel they left out half of it."

Hilary: "Bingo."

In an address to the Foxcroft School in Middleburg, Virginia in 1975, the noted historian of Revolutionary America, Edmund S. Morgan, suggested that the best way to celebrate the achievements of the Founding Fathers would be to persistently re-examine what we believe those achievements to be, re-evaluating the surviving evidence carefully and with a fresh mind. "The challenge of their history is not to restore the past, but," Morgan told his audience, "to enliven the imagination, to look at the unwarranted assumptions of our own time and then have the nerve to say once more, 'It ain't necessarily so.'" [12-165]

This evening it is my goal to enliven your imagination and challenge some unwarranted assumptions about the role of three women named Anne in the history of Maryland.

The first Anne (Anne Mynne) was once well known, but in the years following her death in 1622 her contributions were confused with those of her mother-in-law, and then forgotten altogether.

The maiden name of the second Anne (Anne Arundel) who died in 1649, is mispronounced almost every day in the news. For those who live in the Annapolis area it also graces a section of the regional edition of the Baltimore SUN, yet her importance to the formative years of the first Catholic colony in English America goes largely unnoticed.

The third Anne (Anne Wolseley) who died in 1679 or 1680, simply has been ignored. Her remains were found not too long ago, buried in a lead coffin in the midst of a St. Mary's County corn field.

To understand the role all three played in the founding of Maryland, and to help set the record straight we begin not with the settlement of Maryland in 1634, but nearly 1460 years earlier with yet another woman, St. Cecilia. St. Cecilia is perhaps best known from a painting, and from her life's story as told by the founder of Modern English Literature, Geoffey Chaucer. [12-177]

In 1515 the Italian Renaissance artist Raphael painted a magnificent portrait of St. Cecilia for an alterpiece which now hangs in a museum in Bologna, Italy. [the Pinacotes Nazionale, Bologna...,].

Raphael's painting, see 12-177 for documentation; from Indagini per un dipinto La Santa Cecilia di Raffaello, Bologna: Edizioni ALFA, 1983, including an article by Thomas H. Connoly, "The cult and iconography of St. Cecilia before Raphael, pp. 121-139
Note the inspiring beauty of St. Cecilia, patron saint of music and the blind; note how richly dressed she is and how her head turns towards

"the heavenly choir in the clouds. On the left are St. Paul and St. John the Evangelist, on the right St. Augustine and St. Mary Magdalene, all of whom are closely associated with heavenly visions. At their feet, battered and broken, lie assorted musical instruments. Even the pipes of the [small] organ [St. Cecilia holds in her right hand] are beginning to slip. .... an allegory of the Christian concept of music demonstrating 'the inferiority of all music perceived by the senses to what is absolute music in its religious sense,.... [music] which can be played only by angels and can be heard only by saints'. [12-177]
The Second Nun's Tale of Chaucer's Canterbury Tales is about the life of St. Ceciliae who was martyred in Sicily under Roman Emperor Marcus Aurelius (c.176 a.d.). It was written sometime between 1387 and Chaucer's death in 1400.
Chaucer begins by explaining the signficance of Cecilia's name:


First let me tell you whence her name has sprung,
Cecilia, meaning, as the books agree,
'Lily of Heaven' in our English tongue,
To signify her chase virginity;
Or for the whiteness of her constancy,
The greeness of her conscience, of her fame
The scent and sweetness, 'lily' was her name.

Cecilia may betoken 'path to the blind'
From the example given in her story;
Or in Cecilia some would have us find
A union as it were of 'Heaven's glory' ...

Cecilia may be also said to mean
'Wanting in blindness,' as she had the light
Of sapience and bearing calm and clean; ...

And just as one may look to heaven and see
The sun and moon, and where the stars are hung,
so in this maiden, spiritually,
We see her faith and magnanimity
And the whole clarity of her wisdom thence
In many works of shining excellence.
[quote from pp. 452-453 4-2744]

Chaucer also reminds his readers that when confronted with the threats of her enemy, Almacius, the Emperor's official, Cecilia replied:

Your power is little to be feared indeed;
Power of mortal man is soon discerned
to be a bladder full of wind and spurned;
for prick it with a needle when it's blown
and the inflated boast is overthrown.'

To the end, even when half dead with 'carven neck' from the blows of her assasin's knife,

Cecilia never
ceased in teaching.
The faith she fostered,
and continued preaching.

In time, Raphael's saintly St. Cecilia became less so as images of her 'proliferated throughout' the 16th and 17th centuries. About 1610 the Florentine painter, Orazio Gentileschi portrayed her as a simply dressed young woman playing the organ for an angel:

Orazio Gentileschi, c. 1610, Florence, St. Cecilia and an Angel, National Gallery of Art, 12-241

Strozzi, St. Cecilia, ca. 1618-1620
By the time of Anne Mynne Calvert's death in 1622, Bernardo Strozzi, the master painter of Genoa had depicted her as a quite sensuous, richly dressed, young woman

"with an organ (barely visible pipes, left, rear) - which she is tradtionally credited with having invented- a violin (mid-left), and a lute (center, right)." [Walter's Catalogue, p. 26]

But what does all this about St. Cecilia have to do with the three forgotten Annes of Maryland? For that answer we need to look more closely at the evidence pertaining to all three.

Anne Mynne Calvert

We probably will never know for certain why George Calvert (1578/1579-1632) and Anne Mynne chose to honor St. Cecilia by being married on her feast day, November 22, 1604, at St. Peter's Church, Cornhill in London. Perhaps it was to pay tribute to both the Saint and to honor George Calvert's wealthy patron and political benefactor, Robert Cecil.

Robert Cecil (1563?-1612) was the 1st Earl of Salisbury and Chief Minister to King James I.
He lived at Hatfield House which he built between 1607 and 1611 and where the Cecil family still resides today. It is not far from where Anne Mynne lived, but what connection she or her family may have had with the Cecil's is not known. What we do know is that Anne Mynne was a devout Roman Catholic, the granddaughter of a minor court official in the reign of Henry the VIII, the daughter of a wealthy Hertfordshire gentleman, who, with her husband, and her first born, paid homage to St. Cecilia in a number of ways significant to the history of Maryland.

George Calvert grew up in Yorkshire where he built a country home, Kiplin Hall, for himself, Anne, and their rapidly growing family.

(12-240)
Between 1605 and 1622 Anne bore eleven children, dying in childbirth with the last. A contemporary recorded the event: "On Thursday [August 8] Secretary Calvert's lady went away in childbirth, leaving many little ones behind her. She had not been sick above two days." [14-327-8-24]

George Calvert from Justin Winsor's Narrative andCritical History, III
George Calvert was called 'Secretary' because in 1619 King James I appointed him Secretary of State, the equivalent of a Foreign Minister. His predecessor in the office, Sir Thomas Lake, had been dismissed because of his wife's indiscressions. The King wanted to be certain that Calvert did not have the same problem with Lady Calvert. Before making up his mind about the pending appointment, he questioned Calvert carefully on many subjects, including pointed inquiries about the reliability of his wife.

"She is a good woman," Calvert replied, "and has brought me ten children; and I can assure your majesty, she is not a wife with a witness," a response which historians construe to mean that "Lady Calvert was by no means a second Lady Lake" who "would betray what was confided to her." It also seems that the King had had enough of "head strong, high spirited wives" like Lady Lake of whom he had experienced "much wilfulness and [a] violent temper." [14-327-8, p. 10-11; 12-62]

George Calvert got the appointment, only to lose Lady Anne three years later. She died giving birth in London where her husband was immersed in efforts to secure a Spanish bride for Prince Charles. Her body was taken to her family's parish church, St. Mary's Hertingfordbury, in Hertfordshire, about nineteen miles north of London.

St. Mary's, sign, 12-143-1

St. Mary's church, 12-143-2
George was overcome by grief. He wrote the Marquis of Salisbury thanking him for his words of comfort:

I am much bound to you for the sense you have of my sufferings, and for the wise advice you give me to bear it patiently. I shall strive to do it, but there are so many images of sorrow that represent themselves every moment to me in her loss, who was the dear companion and only comfort of my life, as I doubt I shall not so easily forget it as a wise man should; for which God forgive me if I offend, who for my sins only has laid this heavy cross upon me, and yet far lighter than I deserve, though to my weak heart it be almost insupportable." [12-45-1, Krugler]

Anne Mynne's Tomb, St. Mary's church, 12-143-3
As a memorial George Calvert built Anne Mynne a splendid Italianate tomb placing his recumbant wife in marble before a mantel adorned with
the Calvert shield on the Left,
Anne Mynne's Tomb, St. Mary's church, detail of Mynne shield12-143-5
the Mynne Coat of Arms on the right,

Anne Mynne's Tomb, St. Mary's church, detail of two family shields encorporated into one in the middle, 12-143-6
and the two coats of arms elevated and joined in the middle.
In the language of heraldry there were
"three shields of Arms. On the centre shield: Paly of six, or[gold] and sable [silver], a Bend counterchanged for Calvert; impaling, Sable[silver]; a Fess dancette paly of four, gules and ermine, beween six-crosslet argent[silver], for Mynne. On the other, Calvert and Mynne emblazoned alone."[12-144].
George Calvert sought solace in the household of the Catholic Earl of Arundel where a high mass had been held in memory of his wife Anne and where she seemed to have spent much of her time while in London. [Krugler] It was this same Earl of Arundel who may have been a student and patron of the noted poet and compiler of the first Italian-English dictionary, John Florio (1533-1625). Indeed, both Florio and George Calvert had their portraits painted by the same artist, Daniel Mytens the elder at about the same time. [12-175]

George Calvert by Daniel Mytens
Historians will probably never be able to discover how George Calvert felt about the work of John Florio who spent his life attempting to make English and Italian gender neutral. Florio particularly disliked the common translation of Fatti Maschii Parole Femine (today the controversial unofficial Motto of the State of Maryland) which men like Sir Thomas Bodley, who founded the Bodleian library at Oxford, used disparagingly to mean "wordes are women and deeds are men." Instead Florio argued in his preface to A WORLD OF WORDES (1598) that those words should be interpreted differently, without reference to gender. Florio explained:

As our Italians say, Le Parole sono femine, & i fatti sono maschii, words they are women, and deeds they are men. But let such know that detti and fattii, words and deeds with me are all of one gender, and though they were commonly feminine, why might not I, by strong imagination ... alter their sex?

It is not difficult to imagine that Florio found a sympathetic ear in Anne Mynne Calvert and it is plausible to argue that George Calvert may have chosen to honor the memory of both his wife (who died in 1622) and John Florio (who died in 1625) by adopting as his family motto Fatti Maschii Parole Femine which from Florio's perspective translates gentle words, strong deeds. Written in latin on the margin of a 1622 description of his coat of arms, it is first found in use on a wax seal affixed to George Calvert's last surviving letter of March 28, 1632 and is now boldly emblazoned on the Great Seal of Maryland which is affixed to all laws and most official pronouncements of the state.

So important was the memory of his wife Anne Mynne that when George Calvert was elevated to the Irish Peerage as Baron Baltimore in 1625, I believe he chose to pay tribute not only to his Crossland origins, but also to his wife's family who had the same colors and a buttoned cross in their coat of arms, although in heraldic terms only the Crossland's were entitled to countercharging their colors of red and white as it appears Maryland's Great Seal and flag. [12-145].

Time has dimmed the memory of Anne Mynne, just as her tomb has been moved from a place of honor near the alter to a dark corner in the rear of St. Mary's Church.
Subsequent generations of scholars and the annotated code of Maryland have mistaken the Cross that appears on the Calvert Coat of Arms, the Great Seal of Maryland, the State Flag, and by law on every flag pole where the State Flag is flown, as exclusively the Cross Botany of the Crossland family to which George Calvert's mother may or may not have belonged. Perhaps it is time to give Anne Mynne her due. Not only does she deserve credit for at least half of the most visible symbols representing Maryland, but she also provided material wealth and inspiration for her husband who renounced the political wold, openly joined the Catholic church, and who may have been far less sexist than contemporaries and historians may have imagined.
---

Cecil Calvert's portrait, by Gerard Soest, Enoch Pratt Free Library
If subsequent generations of Calvert family historians forgot her, Anne Mynne's first born did not. Doubly Christened in 1605 after his father's earthly patron, Sir Robert Cecil, and after the Saint who used words and deeds to preach and to educate, even on her death bed, Cecilius Calvert was the first to publish the family coat of arms and spent the better part of his adult life teaching about, writing about , and promoting the virtues of emigrating to the shores of the upper Chesapeake Bay.

Calvert Coat of Arms
Cecil Calvert first used his mother's armorial bearings on the first map of Maryland published in 1635 and again on this second edition of 1671. The map was an integral part of the promotional literature for his new colony granted by King Charles I in 1632 and called Maryland after the Queen, Henrietta Maria.

Maryland Manual cover with the Ark & Dove, 2-45-1991
It was to this 'fruitful and delightsome land' of Maryland that Cecil Calvert dispatched the Ark and the Dove in the fall of 1633 laden with supplies and 'neere' 200 prospective settlers. Surely it was not a coincidence that, as Father White, one of the passengers relates:

on Friday, the 22. of November, 1633, [St. Cecilia's day] a small gale of winde comming gently from the Northwest, they weighed from the Cowes in the Isle of Wight about ten in the morning ...

map of Maryland, 1671; first to show counties
By 1671 the Colony was flourishing. This map, revised from the first edition of 1635 with two rows of trees added to the north in the hopes of protecting the colony from encroachment, was published with a condensed history of the colony extolling the virtues of religious freedom for all who would settle there. Graphically it documented the progress of the colony since its beginnings in 1634. In addition to the wonderfully colored and enlarged coat of arms proudly bearing the quartering of the Mynne and Calvert shields, it displayed the names of all the local administrative districts still called counties after their English counterparts.
Anne Arundel Calvert
One of the counties most prominent on the map and among the first to be erected in Maryland (after St. Mary's) was Anne Arundel. Created by act of assembly in April 1650, it was named for the late Anne Arundell, wife of Cecil Calvert, who had died the previous July at the age of 34. [12-93, Niclin; Hastings]. Anne Arundel was the daughter of Thomas Arundell of Wardour castle in Wiltshire. She was married to Cecil Calvert in 1628. They had four children of their own, and by the will of George Calvert, the first Lord Baltimore, they were enstrusted with the care of Cecil's half-brother, Philip.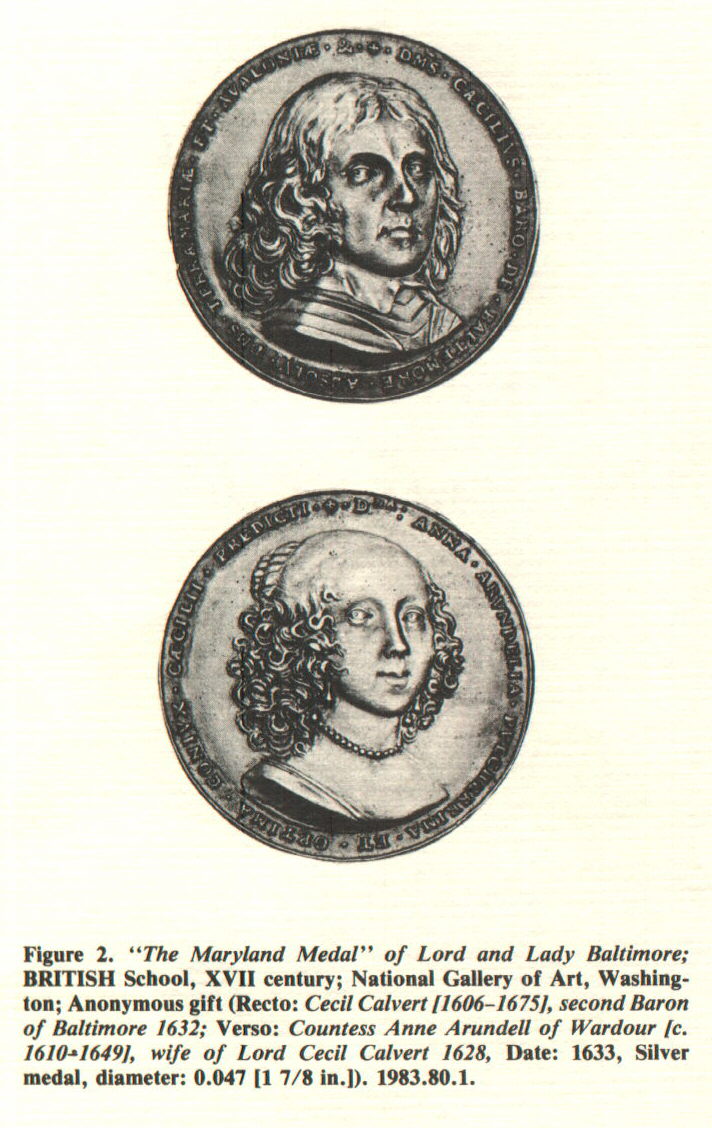 Their marriage was commemorated by the issue of a silver medal with Cecil on one side and Anne Arundell on the other. This is the only know contemporary image of Anne Arundell, although in 1672, long after she had died, Cecil sent a portrait of her to his son Charles in Maryland.
This portrait of Anne Arundel now hangs in Hook House in the southern county of Wiltshire. It once was consigned to basement storage in nearby Wardour Castle where Anne Arundel was born. It has been across the Atlantic more than once and probably is the one referred to in correspondence between her husband Cecil and her son Charles. Neither Cecil nor Charles thought it a good likeness, but Charles was pleased to have it anyway: In 1673 he wrote his father from St. Mary's City that he had

recieved ... my mother's picture which will be a great Ornament to my Parlor and though the painter hat not done it for her advantage as your lordship writes, yet those thinges are much esteemed here ...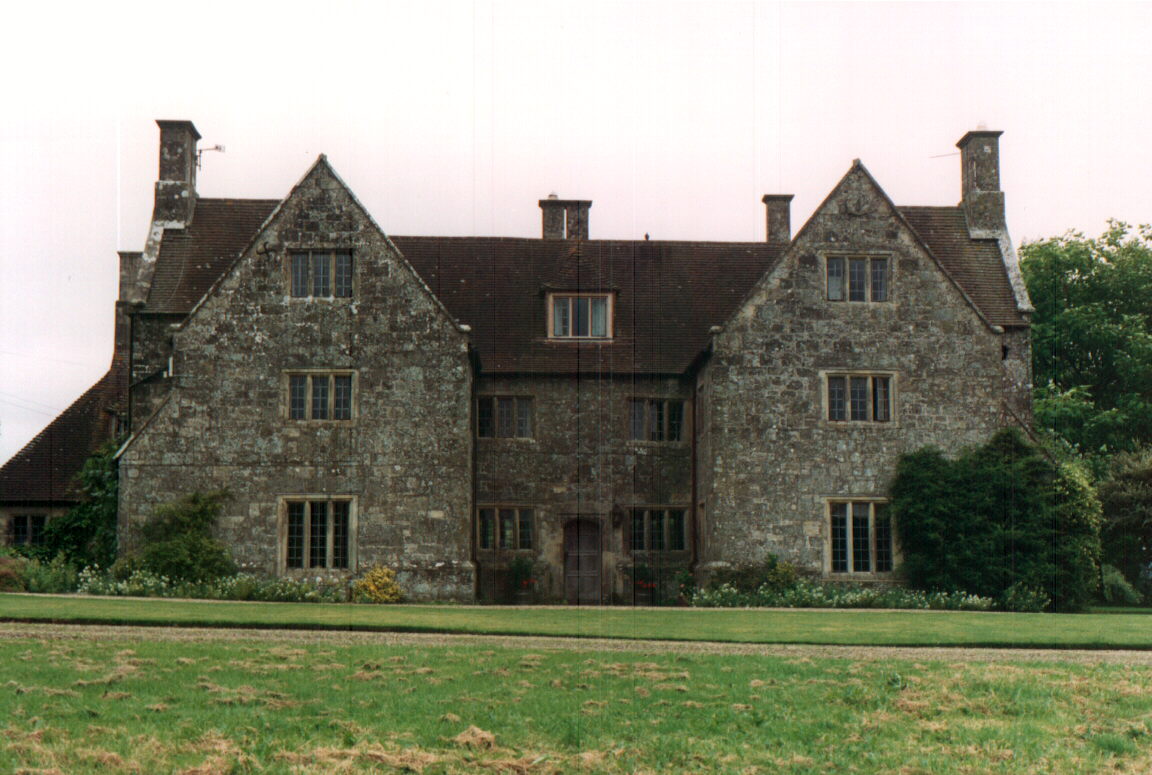 Hook House, with the ruins of Wardour castle off in the distance
Until her death in 1649, Anne resided with her husband in at least three places, Kiplin Hall in Yorkshire, a rented townhouse in London, and at Hook House which was built on land given to Anne by her father.
There Cecil commemorated the colony by having an ornate plaster ceiling with their initials and reliefs of the Ark and the Dove installed in what is now known as Lady Anne's sitting room. [12-93]

It was here also that Anne Arundell probably raised Philip Calvert as her own along side Charles, the future third Lord Baltimore. Philip was eleven years older than Charles. His origins are wrapped in mystery, but it is most likely that he was born of the union of his father with the chamber maid for whose care George Calvert braved the plague in 1630. George may have missed his wife, and paid homage to St. Cecilia, but he did not remain celibate for long, marrying again in 1627 or 1628, shortly before or after Philip was conceived, only to have his second wife lost at sea.

portrait of Charles Calvert, 3rd Lord Baltimore, by John Closterman, 12-129-4
There is no known portrait of Philip, but there are several of Charles, his nephew, such as this one recently offered for sale. To what degree Anne shaped the minds and encouraged the development of both is not known. They were well cared for and well-educated. Charles remembered his mother fondly 24 years after her death. Philip was 23 and Charles 12 when she died. Both would prove to be strong personalities, jealous of each other, but each in his own way careful and competent managers of the new world venture. Philip, as his brother's emissary to a floundering colony in 1657, brought stability and order to the affairs of government, providing careful attention to the creation of a body of laws of estate and land administration that have continued to serve well to the present. Charles, after an initially rough beginning in the shadow of his uncle, became an astute politician who kept both his faith and his lands at a time when religious toleration was on the wane at home in England and in the Maryland colony.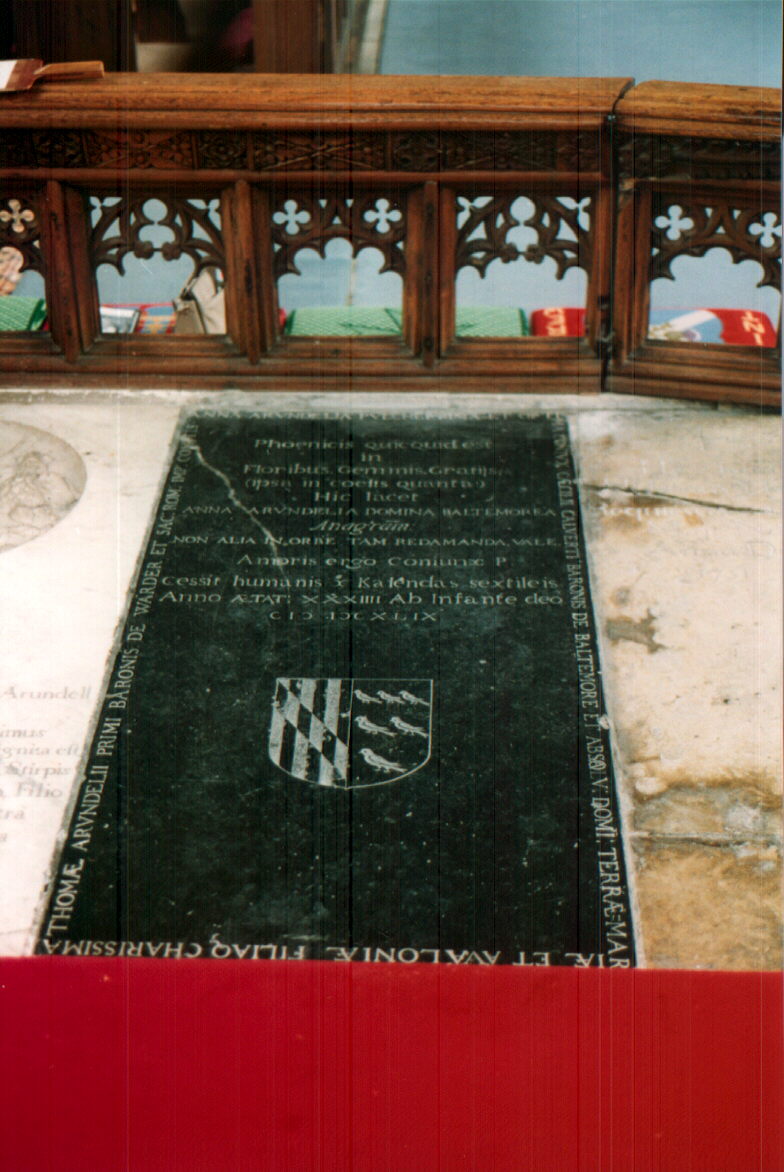 tombstone of Anne Arundel, St. John the Baptist, near Tisbury
We will never know for certain the extent of Anne's influence, but we can guage the material contribution her fortune made to the success of the Maryland venture and to the life-style of her children. Without her lands at Bournemouth there might never have been a St. Mary's. Anne Arundell died suddenly in 1649 at the age of 34 and was buried beneath a slate tablet before the alter of her parish church of St. John the Baptist near Tisbury, Cecil, Philip, and Charles were left to manage alone.
Unlike his father George, Cecil Calvert seems to have chosen to not only honor, but also to emulate St. Cecilia. He apparently remained celibate until his death in 1675, dispatching first his brother Leonard, then his ward Philip, and finally his son Charles to manage his colony in the new world, when conditions at home prevented him from going there himself.
From its founding until the day he died in 1675, Cecil Calvert devoted his life to following the spirit, and often the example of his namesake, St. Cecilia. He preached the gospel of hard work and a just reward in the new world.

When the colony appeared likely to fail in 1649 he even pioneered legislating tolerance in an age of intolerance, proudly drafting in his own hand an act of toleration. The act was a masterpiece of tact, incorporating the harsh language of the Elizabethan laws regarding blasphemy, but carefully allowing the practice of any religion as long as the practitioner remained silent and did not impose his or her views on others. For nearly forty years, years in which the colony struggled to survive, the Act of Toleration provided a framework for success that utimately in part inspired the first amendment to the U. S. Constitution.

By 1671, Cecil Calvert could bask in the warm glow of the praise John Ogilby heaped upon him in his "America":

Thus this province at the vast charges, and by the unweary'd industry and endeavor of the present Lord Baltemore, the now absolute Lord and Proprietary of the same, was first planted, and hath since been supply'd with people and other Necessaries, so effectually, that in this present year of 1671, the number of English there amounts to fifteen or twenty thousand inhabitants, for whose encouragement there is a fundamental law established there by his Lordship, whereby Liberty of Conscience is allowed to all ...

Ogilby limited such freedoms to Christians, but Cecil Calvert did not. Although his colonists tried to convict one Jew as having violated the act of Toleration by proseltyzing, they failed, never to try again.

Ogilby also gave far to much credit to Cecil Calvert alone for the successes in the New World. A whole generation of colonial leaders had been molded by not only the example of George and then Cecil, but also by their wives both in life and after death. Much like Saint Cecilia, the Calvert women, while not celibate, exerted a strong influence on their husbands and their children, teaching by example and contributing their lives and their fortunes to their success.
Anne Wolseley Calvert
Which brings me finally to the last of the three Anne Calverts to whom we pay tribute this evening.

On December 5, 1990, James Bock reported in the Sun that a team of scientists, archaeologists, and historians had begun to interpret the remains of three people buried in lead coffins within the foundations of probably the first brick Catholic Chapel in English-speaking North America. The middle of the three coffins contained a woman of 55 or 60 years whose suffering at the last must have been enormous. She was malnurished and had few teeth. She had been in considerable and constant pain from a spiral fracture of one leg that had only partially healed allowing her to walk with a pronounced limp, but leaving her with two open abcesses that surely made the last two or three years of her life perfectly miserable.

Who was this woman buried with such tender loving care- arms folded and tied with silk ribbon, rosemary, the herb of remembrance sprinkled lovingly over her body? All of the evidence points to Ann Wolseley Calvert, the wife of Chancellor Philip Calvert who lay next to her in the largest of the three coffins. She came with her husband in 1657 and died in St. Mary's City two years before him, in about 1679 or 1680.

We now know that she suffered greatly and we know much about her state of health, but can we also put a face to her memory?
From her skull, a forensic pathologist reconstructed the facial muscles and overlaying tissues to produce a striking likeness. How close she came to capturing the real Anne Wolsely we will never know for certain without a contemporary image. We do have a new clue however, the story of which is interesting in itself.
In the 1750s a relative of the Wolseleys came to Annapolis to live. She brought with her a painting of her grandmother the neice and namesake of Anne Wolseley, Anne Wolseley Nipe. When she died the painting passed to her daughter and then to her granddaughter. It then skipped a generation, passing to her great-great granddaughter, the wife of the Honorable George Hunt Pendleton. Pendleton served in Congress, ran as George McClellan's running mate against Abraham Lincoln in 1864, authored the Pendelton Civil Service Act and was rewarded with an Ambassadorship to Germany. Mrs. Pendleton took the painting with her to Germany, removing it from Annapolis where it had been on display for about 150 years.

By 1929 it had disappeared from sight. Because it was of a close blood relative to Anne Wolseley, and might be useful in the reconstruction her image as well as in the hunt for family DNA, two consumate researchers, Jane McWilliams and Elaine Rice, were assigned the task of tracking it down. They managed to sort out the innumerable relatives that to whom it could have descended, knowing that in all probability the family tradition of bequeathing it to daughters would have continued. Unfortunately there were a large number of candidates for whom there were no addresses and the hunt ground to a halt. Then by chance, in the lunch room of the State Archives Jane and Elaine happened to be talking with a senior member of the staff who had spent her childhood in a small town in Pennsylvania. When Jane mentioned that one of the possible heirs was named Joline and had come from Pennsylvania, the staff person mentioned that her childhood neighbors had had that name and offered to give them a call. They proved to be none other than the descendants of Anne Wolseley's niece. They didn't own the painting, but thought they knew who did, providing the telephone number of relatives in California. The family was so delighted to receive Jane's call and to learn about the interest in the painting that they donated it to the State Archives, returning it again to Annapolis. From generation to generation the women descendants and close relatives of Anne Wolseley Nipe had carefully preserved both the memory and the artistric rendition of Anne Wolseley Nipe. Now it has a home among the collective memories of our colonial past at the Archives where it joins a revived interest in the role of women who helped formulate what was, and what is Maryland.

---

Although genetically linked to her name-sake there still remained the question of how much Anne Wolseley Nipe resembled her Aunt?
I leave that for you to ponder, but to my eyes there are some striking resemblances, especially given the fact that the portrait was probably a marriage portrait designed to show off the best qualities of the sitter, while the reconstruction was not an artistic embellishment of fact. To put it bluntly, as a recent member of the English branch explained to Elaine Rice, the Wolseleys were known for their big noses.

In many respects, Anne Wolseley Calvert, whose own family had suffered persecution in England for their adherence to Catholocism, represents everywoman of 17th Century Maryland with her strong determination to make her way in a forbidding world filled with travails not unlike those of Maryland's neglected patron saint, St. Cecilia.

While the records are for the most part silent about the example Anne Wolseley Calvert set for those about her, we are left with one tantalizing piece of evidence that suggests the devotion she could inspire. Her husband spent his life attempting to make the colony of Maryland a reasonably safe and secure place to live, a place where men, who died young and often with minor children, could be assured that the state would properly administer their estates for the benefit of their widows and their children. He did so with the help of a number of devoted clerks, the bureaucrats of their day, often providing them with lodgings in his own home. When his longtime bachelor clerk, Michael Rochford died in 1679, Rochford chose not to honor his employer, but his employer's wife, Anne Wolseley. Out of a meager estate, he left his most precious possession, his silver watch to Ann, a touching tribute to a woman who had suffered much but who also seems to have been able to have shown kindness to others.
Not everyone agrees that we should go to such lengths as peering into coffins to reconstruct the past. Indeed an individual who may be a Calvert descendant felt compelled to write expressing his concern over what he perceived of as a desecration of a grave. He closed his letter with the familiar blessing "Eternal rest grant unto them O Lord. Let perpetual light shine upon them. May they rest in Peace."

I tried to explain in reply that until we did the historical research there was no connection with the Calverts and that from the remains alone their could not be. Only by linking the scientific evidence secured from many different disciplines with the fragmentary written evidence that survives could identification of the remains be nearly certain. I said nearly, because so much of the literary evidence has been lost. Nowhere in the records available today, for example, is there reference to these graves as being those of Anne, Philip, and an unnamed female child.

Should we engage in such reconstruction of the past from actual human remains? That is a philosophical question which in my opinion is best answered yes. If Wehad put as much into life for the benefit of others as Philip and Anne did, if we had suffered as much as Anne and that five month old girl did, I think I would like the world to know it and not be forever forgotten in a lead coffin under an oft-ploughed corn field.

When Hamlet contemplated the skull of his friend Yorick, he did so for good reason. When with care and good taste we examine the remains of those who gave so much so that we could live the good lives we do, we do so for good reason as well. "Alas Poor Philip" and Ann, we should. Indeed in many respects Anne and the young girl represent everywoman and everychild. We owe it to them and to ourselves to pay them respectful tribute, not to ignore them. It is not a desecration so to do, it is a celebration, the final act of which should be a respectful re-interment in the crypt of a reconstructed chapel on the site of the earliest Catholic chapel in English speaking North America. But to celebrate we need to understand why, who and how, with whatever evidence remains for us to examine. Only then can perpetual light shine upon them and only then can they truly rest in peace.

---

Perhaps it is also time to lay to rest another matter which seems to recur from time to time in the press: changing the unofficial state motto from the Calvert's Fatti Maschii Parole Femine, to something as historic but less controversial. No matter how hard John Florio or his enthusiasts try, it continues to be translated

Words are women, deeds are men,

instead of what Florio intended,

gentle words, strong deeds.

Sometimes new and different interpretations of the meaning of the past prove less persuasive than anticipated. People continue to believe what they want to believe despite a growing body of evidence to the contrary. That too is the challenge of history.

Fortunately for those uncomfortable with fatti maschii parole femine, an equally historical phrase associated with the Calverts offers itself. It is one which encircled a contemporary medal cast to honor their achievement in the new world.
About 1632 Cecil Calvert had a medal struck with a map of Maryland on the obverse. Surrounding the outline of the Bay and a solitary Calvert shield is a latin phrase worthy of St. Cecilia, patron Saint of not only music, but also the blind:

As the sun thou shalt enlighten America.

Perhaps "As the sun thou shallt enlighten America" would satisfy those who clamor for something better or something new, assuming of course, as the man responsible for the death of St. Cecilia, Marcus Aurelius, is alledged to have written,

we are all working together to one end, some with knowledge and design, and others without knowing what they do.

But if we change it, we will also be detaching ourselves further from the rich history of the contributions of the three Anne's, especially Anne Mynne, whose concern for a gender neutral world was centuries ahead of her time.
Writing history is an exercise of contemplation and imagination, of projecting back in time in an effort to understand why and how people behaved, how they viewed the world about them, and what the major influences were that affected their daily lives. What I hope I have done this evening is to challenge you to think differently about the past, to help you see that in our history there can be new ideas about the meaning of symbols and the interpretation of evidence, both familiar and recently unearthed. As long as we are willing to re-examine what we know, and how we know it with an open mind, the adventure will not only be an exciting one, but an illuminating one as well.

Thank you