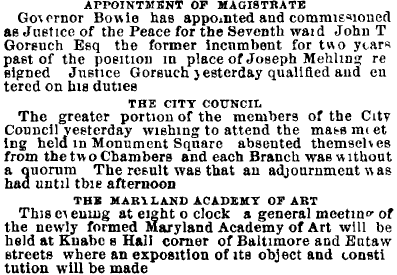 APPOINTMENT OF MAGISTRATE


Governor Bowie has appointed and commissioned as Justice of the Peace for the Seventh Ward John T. Gorsuch Esq, the former incumbent for two years past of the position in place of Joseph Mehling resigned. Justice Gorsuch yesterday qualified and entered on his duties.

THE CITY COUNCIL


The greater portion of the members of the City Council yesterday wishing to attend the mass meeting held in Monument Square absented themselves from the two Chambers and each Branch was without a quorum. The result was that an adjournment was had until this afternoon.

THE MARYLAND ACADEMY OF ART


This evening at eight o'clock a general meeting of the newly formed Maryland Academy of Art will be held at Knabe's Hall, corner of Baltimore and Eutaw streets, where an exposition of its object and constitution will be made.