Society of Senates Past
Roster
---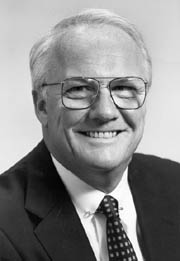 FRANCIS X. KELLY
Democrat, District 10.
Born in Brooklyn, NY, November 18, 1939. Attended Villanova University, B.S., Economics, 1961.
General Assembly:
Member of Senate, 1979-90. Vice-Chair, Budget and Taxation Committee; Chair, Subcommittee on Education, Health, and Human Resources; Special Joint Committee on Maryland State Employees' Health Care Program. Member, Joint Committee on Medicaid Program; Mental Health Laws Advisory Committee; Executive Nominations Committee; Joint Committee on Budget and Audit; Spending Affordability Committee. Chair, Joint Committee on MED-EVAC Program.
Private Career and Other Public Service:
Army National Guard, 1961-66. Founder, Chair, and CEO of Kelly & Associates Insurance Group, insurance administrators, brokers, and consultants, 1978-present. Member, Governor's Blue Ribbon Task Force on Self Insurance; Governor's Alliance to Prevent Substance Abuse. Board of Directors, University of Maryland Medical System Corporation. Chair, Shock Trauma Center Board. "Outstanding Legislator of the Year" Awards, MIEMSS (Shock Trauma), 1980; Maryland Troopers Association, 1982; MADD, 1983; Loyola College Young Democrats Club. Vice-Chair, Morgan State University Board of Regents. Chair, Board of Trustees, Community College of Baltimore County. Board member of Living Classrooms, Inc.; the Baltimore County Revenue Authority; the Sparrow House, a home for unwed mothers. Named first annual "Person of the Year," Baltimore Health Underwriter's Association, 1996. Named "1997 Man of the Year," Maryland Motor Truck Association. Named "Entrepreneur of the Year," Loyola College's Beta Gamma Sigma National Honor Society. Top 100 Irish business leaders in the U.S., Irish America magazine. Stuart Macht Award, Baltimore County Government. Named to Baltimore County Chamber of Commerce Business Hall of Fame.
Personal Comments and Observations:
"There were two controversial issues: First, the abortion issue, and second, the savings and loan scandal.
"[As for my most significant contribution as a Maryland Senator,] it's difficult to isolate one of the following: The sponsorship of the Spending Affordability Act, the Lemon Law, the creation of the R.A. Cowley Shock Trauma Center, the Medivac Helicopter System, the creation of the University of Maryland Medical System, the restructuring of higher education, and numerous laws dealing with DWI and alcohol and drug rehabilitation.
"My most memorable day in office was my first day--the day I was sworn in--when I became acutely aware that only in America could a boy born to a family of small means in Brooklyn, New York, who grew up in the suburbs of Pennsylvania, and moved to Maryland in 1967 not knowing a single Maryland citizen, be elected ten years later to the Maryland Senate as the first Democrat to ever have been elected in a traditionally Republican district."
Compiled March 16, 2000 from the biographical files of the Maryland Manual, ©Maryland State Archives and from materials submitted by Senator Kelly dated February 16, 2000.