---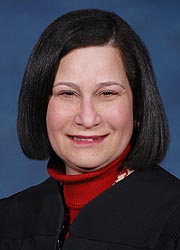 ELLEN LIPTON HOLLANDER, Judge, U.S. District Court for the District of Maryland, since January 4, 2011.

Judge, Court of Special Appeals, At Large, 1995 to December 2010 (6th Appellate Circuit, Baltimore City, 1994-95). Member, Court of Appeals Standing Committee on Rules of Practice and Procedure, 2008-10.

Associate Judge, Baltimore City Circuit Court, 8th Judicial Circuit, 1989-94.

---
Assistant Attorney General, Civil Division, Office of Attorney General, 1979. Assistant U.S. Attorney, District of Maryland, 1979-83. Member, U.S. Magistrate Merit Selection Panel, District of Maryland, 1983-89; Committee to Revise the Local Rules of the U.S. District Court, District of Maryland, 1989.

Born in New York, New York, May 24, 1949. Attended Mt. Vernon High School, Mt. Vernon, New York; Goucher College, B.A., 1971; Georgetown University Law Center, J.D., 1974. Editor, The American Criminal Law Review, 1973-74 (associate editor, 1972-73); contributing author, Res Ipsa Loquitur: The Georgetown Review of Law and Public Interest (1974). Admitted to Maryland Bar, 1974. Law clerk to Judge James R. Miller, Jr., U.S. District Court for the District of Maryland, 1974-75. Partner, Frank, Bernstein, Conaway & Goldman, 1985-89 (associate, 1975-79, 1983-85). Member, American Bar Association; Maryland State Bar Association; Baltimore City Bar Association (special committee on fee abuse, 1988-89). Executive Board, Maryland Chapter, Federal Bar Association, 1987-91. Life Fellow, American Bar Foundation. Fellow, Maryland Bar Foundation, and Baltimore City Bar Foundation. Lecturer (trial & appellate practice) at continuing legal education programs. Executive Committee, Baltimore Jewish Council, 1987-96 (chair, holocaust remembrance committee, 1988-92; chair, world jewry & international human rights committee, 1992-93; 2nd vice-president, 1993-94; secretary, 1994-96). Board of Directors, Advocates for Children and Youth, Inc., 1994-96. Board of Directors, Baltimore Bar Library, 1994-. Board of Trustees, Goucher College, 1996- (secretary, 1999-2000). Board of Directors, Roland Park Little League, 1998-2004. Member, Wranglers Law Club (president, 1995-96); Rule Day Law Club; Lawyers' Round Table. Certificate of Achievement, National Council of Juvenile and Family Court Judges, 1993. Maryland's Top 100 Women, Daily Record, 1996, 1998, 2000, and Circle of Excellence Award, 2000. Dorothy Beatty Memorial Award for significant contribution to women's rights, Women's Law Center of Maryland, 1998. Maryland Leadership in Law Award, Daily Record, 2008. Rita C. Davidson Award, Women's Bar Association of Maryland, 2010. Member, Beth El Congregation.
Office: (410) 962-0742
---
© Copyright September 29, 2015 Maryland State Archives