---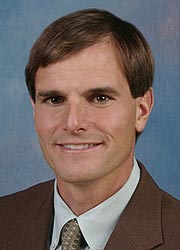 WILLIAM K. (BILLY) BONIFACE, President, County Council (Republican)
---
President, County Council, Harford County, since December 2006 (personnel committee, 2006-).

Member, Agricultural Advisory Board, Harford County, 2006-; Board of Estimates, Harford County, 2006-; Board of Health, Harford County, 2006-; County Auditor Advisory Board, Harford County, 2011-.

Member, Young Farmers Advisory Board, 2004-10 (chair, 2004-06). Member, Incentives for Agriculture Task Force, 2006-07; Maryland-Bred Race Fund Advisory Committee, 2007; Maryland Agricultural Land Preservation Foundation, 2008-11. Member, Task Force to Study Vocational and Technical Education Programs in Harford County, 2014-.

Born in Havre de Grace, Maryland, May 7, 1964. Attended John Carroll High School. Partner/ Division Manager, Bonita Farm, Darlington. Member, Maryland Association of Counties (legislative committee); Harford County Farm Bureau; Harford County Chamber of Commerce; Harford Land Trust; Deer Creek Watershed Association. Past president, Maryland Horse Breeders Association. Past Fire Line Officer, Level Volunteer Fire Company. Soccer coach, Dublin/Darlington Recreational Council. Married; three children.
---
© Copyright September 29, 2015 Maryland State Archives