GOVERNOR'S COMMISSION ON SMALL BUSINESS
---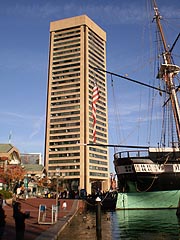 Ackneil M. Muldrow II, Chair (chosen by Governor), 2014

Appointed by Governor: Karen Barbour; Deborah Stallings; Jay A. Steinmetz; William L. Yerman, Esq. Terms expire 2014.

Roland O. Campbell, Jr.; Annie L. Geiermann; Wonro Lee; David D. Son; Sajid N. Tarar. Terms expire 2015.

Barbara I. Berschler, Esq.; James A. Dula; Manuel J. Hidalgo, Jr.; Ricardo R. Johnson, Esq.; Jorge Restrepo; R. Wayne Strausburg. Terms expire 2016.

Michelle R. Fager, Esq. Term expires 2018.

World Trade Center Baltimore, 401 East Pratt St., Baltimore, Maryland, November 2009. Photo by Diane F. Evartt.

---
Appointed by Senate President: James N. Mathias, Jr; one vacancy.

Appointed by House Speaker: Benjamin T. Brooks, Sr.; Adrienne A. Jones.

Ex officio: R. Michael Gill, Secretary of Commerce; Ellington Churchill, Jr., Secretary of General Services; Dawn R. Medley, designee of Secretary of Housing & Community Development; Kelly M. Schulz, Secretary of Labor, Licensing, & Regulation; Jimmy H. Rhee, Special Secretary of Small, Minority, & Women Business Affairs.

Staff: Sean J. McEvoy, Director, Office of Small Business Resources

c/o Office of Small Business Resources, Department of Commerce
World Trade Center Baltimore, 15th floor
401 East Pratt St., Baltimore, MD 21202
(410) 767-5675
e-mail: sean.mcevoy@maryland.gov

---
Annual Report to Governor due June 30.
---
In June 2010, the Governor's Commission on Small Business was authorized (Executive Order 01.01.2010.13). The Commission is to make recommendations to the Governor and General Assembly on how to sustain and expand the growth of small businesses in Maryland.

The Commission is reviewing and analyzing current State regulations. With the Maryland Economic Development Commission, it will recommend what policies the State needs for small businesses. Further, the Commission is working to implement the recommendations of the Small Business Task Force; listen to small businesses concerning existing barriers to their growth; and undertake an outreach initiative to small businesses.

To support development and job creation in growth industries, the Commission advocates for skills upgrades and full employment. In addition, it is to identify public/private partnership opportunities that supplement current programs and financial incentives for small businesses; and recommend how to improve access to resources for minority businesses, and involve youth in entrepreneurship.
---
© Copyright October 16, 2017 Maryland State Archives