---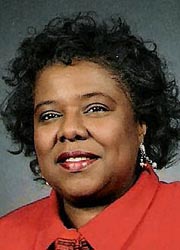 NINA R. HARPER
Democrat, District 45, Baltimore City
Member of House of Delegates, February 27, 2013 to January 14, 2015. Member, Ways and Means Committee, 2013-15 (revenues subcommittee, 2013-15). Member, Legislative Black Caucus of Maryland, 2013-15; Women Legislators of Maryland, 2013-15.
Member, Cable and Commuications Advisory Commission, Baltimore City, 2000-03; Baltimore Mayor Sheila Dixon's Transition Team and Blue Ribbon Commission, 2007. Co-Chair, Baltimore Mayor Stephanie C. Rawlings-Blake Transition Team, 2010.

---
Born in Baltimore, Maryland, October 15, 1950. Attended St. Frances Academy High School; Sojourner Douglass College, B.A. (business management), cum laude. Employed by C&P Telephone Company, 1968-82. Project Manager and Account Executive, Global Services Division, AT&T, 1990-98 (assistant staff manager, human resources, 1983-90). Member, Advisory Board, Mammography Screening Program, Johns Hopkins Oncology Center, 1991-96. Member, Baltimore City Democratic Central Committee, 1994-98, 2002-. Member, AT&T Adult Mentoring Program, YMCA of Greater Baltimore, 1994-95; National Alliance of Black Telecommunications Employees, Inc., 1995-99. Vice-President, Board of Directors, Belair Housing Services, Inc., 1996-98. Chair, Advisory Committee, Community Health Assessment Program, Johns Hopkins Health Systems & Atlantic Health Association, 1996-97. Board of Directors, Dallas Street Community Development Corporation, 2000-. African-American Catholic Ministries Board, Archdioces of Baltimore, 2001-. Finance Council, St. Francis Xavier Church, 2000-05. School Board Chair, St. Alphonsus Catholic Elementary School, 2000-02. Board of Directors, St. Frances Academy High School, 2003-09. Executive Director, East Oliver Community Association, 2004-; East Oliver Community Development Corporation, 2004-. Board of Directors, Baltimore Efficiency and Economy Foundation, Inc.; Historic East Baltimore Community Action Coalition, Inc.; Roberta's House Grief and Loss Center. Consultant, Harper & Associates, 1999, 2002-04.
---
© Copyright September 29, 2015 Maryland State Archives