Find Records
Use this page to discover what we have at the Maryland State Archives! Our holdings date from Maryland's founding in 1634 and consist of a wide array of items, including but not limited to government records and publications, private papers, photographs, maps, newspapers, business and religious records, vital records, and art. Browse by record type, user type, or topic.
Browse by Record
Guide to Government Records
Special Collections
Maryland Land Records
Government Reports & Publications
Library Catalog
Government Archive-It
Browse by User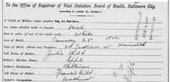 Browse by Topic
Reference & Research Topics
Archives of Maryland
Maryland Vital Records
Search Online Databases
This information resource of the Maryland State Archives is presented here for fair use in the public domain. When this material is used, in whole or in part, proper citation and credit must be attributed to the Maryland State Archives. PLEASE NOTE: Rights assessment for associated source material is the responsibility of the user.
---
© Copyright September 08, 2017 Maryland State Archives