19th Amendment Commission
Women Legislators of Maryland, February 2013.
Special Joint Session to Commemorate the 100th Anniversary of the Women's Suffrage Procession.
Authorized in July 2013, the Commission on the Commemoration of the 100th Anniversary of the Passage of the 19th Amendment to the United States Constitution seeks to: develop a plan for commemorating the events that occurred in Maryland connected to women's suffrage and the ratification of the 19th Amendment to the U.S. Constitution; assemble an inventory of sites in Maryland that are significant to the suffrage movement; develop a strategy to encourage tourism related to the commemoration; and foster collaboration between federal, state, county and municipal organizations with regard to commemorative programming.

The Commission seeks research and volunteer assistance related to all aspects of its mission. Any organization or individual wishing to contribute to the commemoration of the passage of the 19th Amendment in Maryland, please contact your local Commissioner to volunteer information or assistance.

Ratified by two-thirds of the states by August 1920, the 19th Amendment to the United State Constitution gave women the right to vote in the United States. This Executive Commission is authorized by Chapter 603, Acts of 2013 (Code State Government Article, sec. 9-300) and chaired by the Honorable Gloria Lawlah. Authorization for the Task Force extends through October 31, 2020. To become a volunteer with the Commission, please contact your local Commissioner. Please check back as a calendar of events will be posted soon.
Kickoff Event: Historic Suffrage Marker Unveiling (June 9, 2014)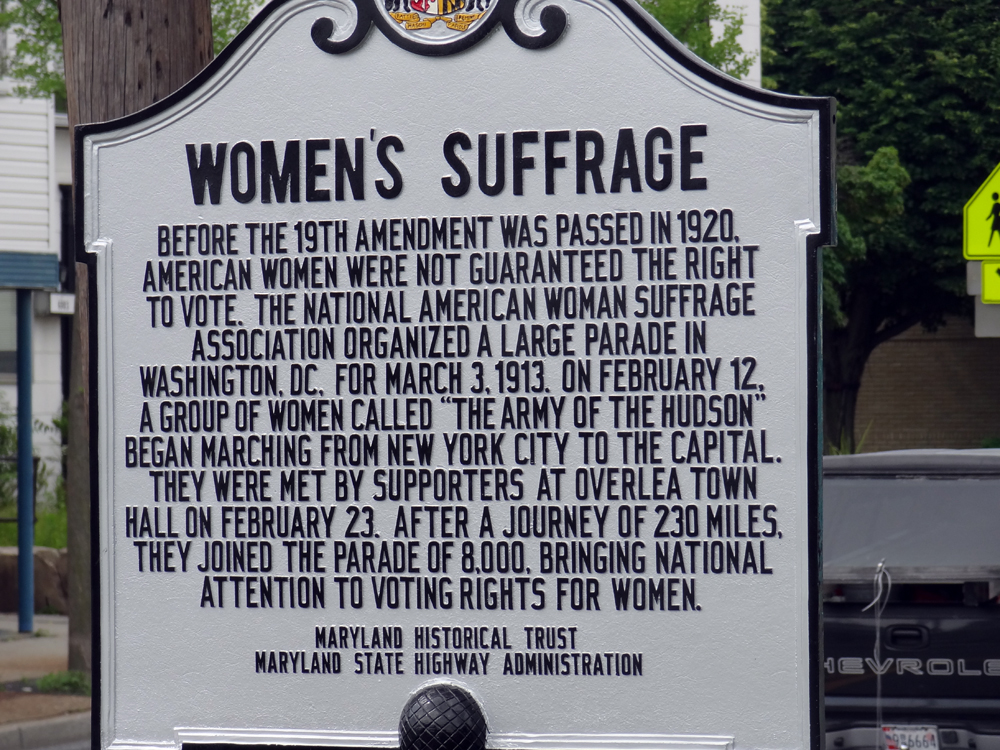 Commissioners Contact:
Patricia Dockman Anderson, Ph.D.
Maryland Historical Society
410-685-3750, ext. 317
panderson@mdhs.org
Elizabeth F. (Liz) Fitzsimmons
Managing Director, Tourism, Film, & the Arts
(410) 767-6331
elizabeth.fitzsimmons@maryland.gov
Honorable Cheryl C. Kagan
James Senate Office Building, Room 203
11 Bladen St., Annapolis, MD 21401
(410) 841-3134, (301) 858-3134
1-800-492-7122, ext. 3134 (toll free)
cheryl.kagan@senate.state.md.us
Honorable Ariana B. Kelly
House Office Building, Room 210
(410) 841-3642, (301) 858-3642
1-800-492-7122, ext. 3642 (toll free)
ariana.kelly@house.state.md.us
Honorable Katherine A. Klausmeier
James Senate Office Building, Room 103
(410) 841-3620, (301) 858-3620
1-800-492-7122, ext. 3620 (toll free)
katherine.klausmeier@senate.state.md.us
Nancy Kurtz
Maryland Historical Trust
100 Community Place
Crownsville, Maryland 21032-2023
(410) 514-7648
NKurtz@mdp.state.md.us
Diettra J. Lucas
Maryland State Conference, NAACP
301-346-5535
Diettra.Lucas@outlook.com
Honorable Susan K. McComas
House Office Building, Room 319
(410) 841-3272, (301) 858-3272
1-800-492-7122, ext. 3272 (toll free)
susan.mccomas@house.state.md.us
Blair Burns Potter
Maryland Democratic Party Women's Diversity
Leadership Council
blairbpotter@gmail.com
Roberta Sharper
League of Women Voters
3731 Nortonia Rd
Baltimore, MD, 21216
410-624-3144
robertasharper@verizon.net
Major General Linda L. Singh
Office of Adjutant General
Military Department
Fifth Regiment Armory, 219 29th Division St., Baltimore, MD 21201
(410) 576-6000; fax: (410) 576-6079
linda.l.singh.mil@mail.mil
Emily Oland Squires
Maryland State Archives
410-260-6443
emily.squires@maryland.gov
Ruth M. Umbel
Maryland Republican Women
ruthumbel@comcast.net
A. Diane Williams
Maryland Commission for Women
410-767-3049
This information resource of the Maryland State Archives is presented here for fair use in the public domain. When this material is used, in whole or in part, proper citation and credit must be attributed to the Maryland State Archives. PLEASE NOTE: Rights assessment for associated source material is the responsibility of the user.
---
© Copyright December 22, 2016 Maryland State Archives